Listening to Old Voices: Van Morrison
The Lion in Winter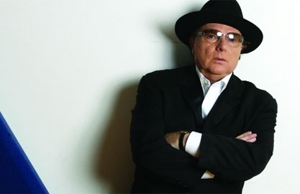 Incredibly, Van Morrison is now 60 years old—certainly old enough to kick back and enjoy the Avalon sunset if he chooses. But don't let him in on that secret. Most rock stars Van's age—content to play the nostalgia game if they still play the game at all—criss-cross the world on Oldies tours. In contrast, during the past three years, Van Morrison has quietly released three new albums of original material that are some of the best of his monumental career. It's suspiciously sprightly behavior for a man who's supposed to be resting on his laurels.
The young Van Morrison, of course, was a hard act to follow. Outside of the unassailable Beatles catalog, there aren't many stronger eight-album runs than the one Van unleashed with 1968's Astral Weeks and concluded with 1974's Veedon Fleece. During those years Morrison served up a heady fusion of deeply personal, frequently mystical songwriting; folk, R&B and Celtic musical influences; and the most electrifying, soulful voice of the rock 'n' roll era. Entering his prime at the onset of the FM-rock-radio age, Morrison was the perfect album-oriented artist. His best-known songs from that period-"Moondance," "Caravan," "Domino," "Blue Money," "Tupelo Honey," "Wild Night," "Jackie Wilson Said"—are the Holy Grail of extended soul workouts, featuring the most sublime use of strings and horns to ever appear in rock music, and a voice that was almost feral in its intensity.
Nowhere is this better illustrated than on "Listen to the Lion," an impossibly idiosyncratic track from Van's 1972 album St. Dominic's Preview. For more than 11 minutes Van wrestles his lyrics like a dog worrying a bone, repeating the same phrases over and over in an incantatory prayer; whispering, moaning, cajoling, pleading and ultimately breaking free of language altogether, soaring off into a scatting, stuttering frenzy before finally roaring like the titular lion, settling down again and morphing back to his normal, irascible self. I know people who hate the song and who find it annoyingly self-indulgent. But for my money it's the quintessential Van Morrison moment, the most thrilling and thrillingly strange soul music—in all senses of the term—ever recorded. It's the sound of a man casting off all earthly bounds and battering down the gates of heaven.
Morrison's willful obstinacy and refusal to conform to commercial trends is legendary, and at the peak of his popularity he took a left turn into mysticism, poetry and the power of childhood memory, and he never looked back. There were many high points in the 15 or so albums he released during the 1980s and '90s, a few low points and a lot of head-scratching weirdness—odes to theosophy, tributes to skiffle bands and blues singer Mose Allison, duets with rockabilly artist Linda Gail Davis, heartfelt hymns of praise to John Donne, musical settings of poems by William Blake and, at one point, quirky literary R&B workouts that included lines such as, "Did you ever hear about Wordsworth and Coleridge / Baby?" Baby probably had not, and by evidence of album sales, neither had many other people.
So it may be somewhat understandable if the last three albums—Down the Road, What's Wrong With This Picture? and Magic Time—have been met with polite indifference. But let me attempt to lift the lethargy. These three albums rank among Morrison's best since those early masterpieces, deliberately hearkening back to—and occasionally recapturing—their feral energy.
On Magic Time, his latest album, "Celtic New Year" is a simmering ballad reminiscent of "Tupelo Honey" in its slow burn. The song finds Van scatting off into the kind of ecstatic epiphany that's always marked his finest work. "Evening Train" is equal parts John Lee Hooker and Irish soul, raw and insistent, driven by a dirty baritone sax that recalls the great R&B sides Van cut with his seminal band, Them. And 33 years after the original roar, a song called "The Lion This Time" finds Van wondering if the king of beasts still holds any terror. "The lion this time," he sings, "He's in the circus in a cage." Don't believe it. Behind a deceptively lovely string arrangement, Morrison finds the ancient growl intact, gradually building his vocal throughout the song until he's roaring down those who'd have him go gentle into that good night. He understands all too well that old age should burn and rave at close of day.
It's further evidence, if any is needed, of what Van Morrison has always been, and of what he refuses to become. Don't be fooled by the lion this time. You expect to encounter a tired legend, a once-mighty king becalmed and tamed by the miles and years. You find instead an echo of a full-throated roar hanging in the air, the telltale signs of a bloody struggle, and an empty cage. The lion in winter is on the loose.
Others Tagged With