The Avett Brothers
A Highway Less Traveled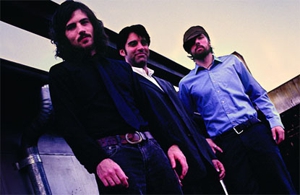 (Above: The Avett Brothers [L-R]: Scott Avett, Bob Crawford, Seth Avett)
"Load in, load out, get down, get out Drive home, too late, my mind stays crooked and my back stays straight I'm a hard, hard worker every day…"
AT THE CRACK OF DAWN on a breezy September morning, Avett Brothers manager Dolph Ramseur and I cruise through the North Carolina countryside near Charlotte, on the way to meet the band for a two-day trek halfway up the East Coast and back.
When we pull up to Seth Avett's house, he, his older brother Scott and road manager Dane Honeycutt are packing banjos, guitars and other assorted gear into the back of their well-worn 15-passenger Ford E-350. As I get closer, I notice a faded Danzig sticker on the back. Dolph introduces everyone—except for bassist Bob Crawford, whom we're picking up later—and we all hop in the van bound for Chestertown, Md.
"Ready for the long haul?" I ask.
Seth chuckles, "After 18 hours from Wisconsin, eight hours doesn't seem so long."
The Avett Brothers have loaded this van hundreds of times over the last four years while bookin' it across the continental U.S., trying to win new converts one dive bar at a time. But recently, the young acoustic trio has been picking up steam (or van exhaust, as the case may be). Its unique sound—a blend of punk- and hard-rock intensity, old-time country, folk and blues, calypso, top-notch songwriting and ragged-but-true harmonies, all delivered with Johnny Cash sincerity and bolstered by an unequivocal work ethic and madman live show—is finally gaining an audience. It seems every time the Avetts play, crowds buzz. Next time they're in town, the audience doubles, and everyone suddenly knows all the lyrics.
In 2005 the band graced the cover of Charlotte magazine, played WXPN's World Café, and was the talk of roots-music barometer MerleFest, filling the role Gillian Welch and David Rawlings played the previous year. But the Avetts—who focus more on songwriting and feeling than honing instrumental chops—still have their critics, especially among purists. "We've had some pretty serious beratings," Seth confides. "Ridiculous heckling. Incidents in elitist bluegrass-type settings where, after we play, people let us know their disgust, like—'y'all are pathetic.'"
But in the tradition of any musical pioneers—be it Dylan going electric or Willie Nelson and Waylon Jennings trying to make Music Row wake up and realize Red Headed Stranger wasn't just an unfinished set of demos—the Avetts are shaking off the criticism and, most importantly, not altering their approach one bit.
"First and foremost it's about the songwriting" says Seth, "We put all this time into the lyrics and melodies. That's what we really believe in. Aesthetically, the heart is what matters. It's not a question of trying to be edgy or raw, we just happen to be pretty rough around the edges as far as musicianship. So instead of fighting that, instead of trying to become technically superior musicians, we're just running with the cards we've been dealt and using them the best we can."
ALL THE BEAUTY THAT I SEE OUT THIS WINDOW TO THE LEFT OF ME
The first hour in the van with the Avetts is always filled with laughter, anxious chatter and inside jokes. They've shaken themselves from sleep and are trying to overcome exhaustion through coffee and conversation. But this caffeinated energy is short-lived. Before long, a hush settles over the van, and everyone takes turns sleeping one- or two-hour shifts in the back seat, while the Southern landscape slowly unravels, as if thread on a spool tugged along by the van. At gas-station stops, it's time to get the blood pumping for a few minutes—we toss around the pigskin or ride skateboards through the parking lot. But just as soon as anyone starts loosening up, it's back on the American highway, back into the van's transitory oblivion, in a holding pattern 'til the next stop spills us briefly into reality again.
After lunch, the same pattern from morning repeats—the conversation slowly fades, Bob digs into thick history novel George Washington's War, Scott thumbs through his sketchbook, and Seth catches a nap while Dolph and Dane cook up wagers on the coming weekend's NFL games. This is life on the road for The Avett Brothers. It ain't glamorous. But it's as honest a living as you can eke out in rock 'n' roll.
Around 4 p.m., we cross the beautiful blue-green waters of the Chesapeake Bay and soon we're rolling past the cornfields and rustic red barns of Maryland's Eastern Shore. Scott informs us we'll be staying at the farmhouse of a friend after tonight's show. "But it's an old house," he warns Dolph and I. "Some strange things have happened. Years ago, someone was murdered there." Seth adds that people have heard noises and seen apparitions in the halls at night. But talk of the haunted farmhouse halts abruptly when we pull up to Chestertown's Prince Theatre for load-in.
After soundcheck we catch dinner at Andy's—the restaurant/bar/coffeehouse that was the first stop on the Avetts' first real tour. When we sit down to eat, friends stop by to chat about old times and new fans meander over, shyly introducing themselves. It seems most of the tiny college town is anticipating the band's performance. The cook even bumps up our order—without being asked—so we can make it back to the venue on time. It's not free bling, or crystal dishes full of caviar, green M&Ms and tiny sandwiches, but that isn't what the Avetts are after. Still, it's undeniable—they aren't the anonymous band they used to be.
I'M DONE FOREVER, IT'S YOU AND ME FOREVER
Scott and Seth Avett grew up in Concord, N.C., near Charlotte, and from an early age, their parents encouraged their passion for music. "Seth and I and our sister, we all played piano when we were younger," says Scott. "Our father let us take piano lessons. If we wanted to learn how to play the guitar we needed to play the piano first to get a good foundation on theory and reading."
But by middle and high school the brothers graduated to loud, heavy rock bands—though never the same one until Avett Brothers precursor, Nemo. The grunge-metal outfit wanted badly to succeed, but even the band's name doomed it from the get-go. "'Nemo' is the Latin word for 'nobody,'" Scott explains. "We knew the band would never make a name for itself on a national level—there was no way, even on a regional level."
As Nemo proper floundered, Seth, Scott and bandmate John Twomey started side project Nemo Downstairs. In 2000, the trio cut a six-song EP using piano, banjo and acoustic and electric guitars—essentially the first Avett Brothers recording. A year later, when Nemo broke up, Scott and Seth decided to continue the acoustic project as a duo.
"We didn't start with the idea 'hey, we're going to grab these instruments and write rock songs and scream,'" says Seth of the band's original concept. "We just wanted something we could throw in the back of the truck, you know, play on street corners if we wanted to, play house parties, which we did. The energy was something that came without us having to think about it. It just built and built, and it came as we wrote more. But in the beginning we just wanted the mobility, wanted to strip everything down to the essentials of us playing a couple instruments and trying to sing our best."
In 2002, the brothers were introduced to bassist Bob Crawford by a mutual friend. After graduating college in New Jersey, he'd relocated to Charlotte and became a film-production assistant, then moved on to grip, electric and sound, eventually working on Remember the Titans. But, after some soul-searching, he decided music was his true love. "I went back to school at Winthrop and started a bachelor in music with an emphasis on jazz guitar. A couple days before my first semester I got an upright bass, just to have it so when we played on the back deck my friends who played bass would have something to play. I figured, worst-case scenario, 'I'll hang my jacket on it. It'll be a nice piece of furniture.' And I started taking lessons in school and then I met Scott and Seth."
After a brief trial period, Bob was in the band full-time. Now a trio, The Avett Brothers recorded their debut, the independently released (now-out-of-print) Country Was. They followed in 2003 with Carolina Jubilee, their first on Dolph's indie, Ramseur Records. While the album's songwriting represented a creative breakthrough, the band didn't quite succeed in its goal of capturing its live energy in the studio. But the Avetts would fare better on their next record.
Another year of constant touring was time well spent, as the band tightened up and found its mojo. This time around, they weren't so much trying to bottle lightning as build a ship in a bottle. And that ship was Mignonette. The Avetts found their voice on this theme album inspired by Neil Hanson's twisted, real-life cannibalism tale, Custom of the Sea. In the story, Captain Tom Dudley and three of his crewmen are confined to a life raft for 25 days after their boat, the Mignonette, sinks. Desperate and without food, they kill and eat the weakest of their party. A few days later, as they're about to be rescued, the men plead with Dudley to let them throw the evidence of their heinous crime overboard, but he refuses, telling them—the truth will set us free, and if the truth hangs us, so be it.
"[After reading the book] we started drawing parallels to being in a band that's under the radar," says Scott. "You make a sacrifice by writing and producing how you want—maybe not seeing the 'success' you think you should have. But we're trying to live and stick to the truth. We're not going to change what we do for success because we believe if we stick to the truth, eventually, it'll shine through. And it will be good. If it makes us die poor, after we're dead and gone the art that's left is what we were here for."
BE LOUD, LET YOUR COLORS SHOW
Thirty seconds before showtime, the Prince Theatre is packed. Hidden by the curtain, The Avetts huddle up, slapping their right hands one on top of the other in their pre-show ritual. "1, 2, 3… Bust a nut!" they shout in unison, and climb onstage to ravenous cheers. Seth is decked out like Tony Montana in white slacks, wife-beater and Panama hat, Scott could pass for an extra from Easy Rider and Bob is GQ-smooth in a discount-store suit. The local college girls crowd up front in their flowing skirts and tight jeans, singing along to every word. About 25 minutes into the show, Scott and Seth have already collectively busted seven strings, which is inevitable considering how hard they attack their instruments. Behind the scenes, Dane furiously restrings and retunes battered guitars and banjos, striving valiantly—against the odds—to keep up with the steel-string carnage.
Onstage, Bob dances with his bass, shufflin', swingin' and twirlin' on the uptempo numbers like some rockabilly wildman; Seth falls on the floor next to his hi-hat, bucking like Chuck Berry as he coaxes notes from his acoustic guitar; and Scott headbangs along, thrumming his banjo and stomping a tiny bass drum—sometimes he gives himself over so completely to the vibe that his eyes roll back in his head. Adding a shot of adrenaline to an already upbeat set, the night's final song is raucous murder ballad "I Killed Sally's Lover." The show ends in a beautiful train wreck a la Nirvana—instruments and cables tangled, most of the band writhing on the ground.
But later, Seth tells me their performances aren't always such revved-up punk-rock hootenannies, which—after listening to all the gorgeous ballads on the Avetts' records—isn't a big surprise. "We're not a bar or party band," he says, "though we're very in tune with the celebratory aspect of going to a show. But our show is different every night and part of the reason for that is the venue. If we're in a place where there's 150 people sitting in chairs in front of us, we're going to be excited for a chance to play some very tender, very fragile, quiet songs because we know people cut their cell phones off. [The Prince Theatre show] wasn't the place for that. We played three slow songs all night and it was nice for us to get a break … but we've spent the last four years developing to where we can handle different kinds of sets."
A few hours after the show I'm sitting with The Avett Brothers in a small mansion on a 1,000-acre farm in rural Maryland. We'd already dropped our bags off at the creepy, ancient-looking farmhouse where we were crashing, then our gracious host led us across the property under the moonlight, past endless rows of dead sunflowers, and into a swank new house. After surveying the wine cellar and indoor swimming pool, several of us are now lounging in the living room, swilling Jack & ginger around a 15-foot wooden coffee table fashioned from African railroad ties. Over the mantelpiece, pictures of three giant baby's heads—apparently our host's cousins—stare back at us. It's a little surreal—certainly not where I expected to end up when we left Seth's house this morning.
The hour grows late, and we tiptoe back through the fields, then down the long gravel driveway to the farmhouse. Upstairs, as the last of us are about to turn in, there's a rustle down the hall. "Did you hear that? What the hell was that?" Suddenly a bloodcurdling scream erupts, and we hear footsteps pounding toward us. A grotesque figure emerges, pale white hair cutting through the darkness. The beast lunges shrieking as we stand temporarily petrified. Just as it's about to ravage Dolph, it stops short and yanks the rubber mask from its face, laughing hysterically. It's Scott and it turns out he and Seth's whole murder story has been an elaborate gag to freak out me and Dolph. The bastards.
HE'S IN FOR LIFE, HE DOESN'T CARE, IT'S WORTH THE SONGS THAT PUT HIM THERE
Sometimes being in a rock band is like being in a militia. No matter how late you went to bed last night, or how soundly you're sleeping this morning, you've got to be ready for the fight at a moment's notice. At 7:30 a.m., I hear my temporary roommate Bob stirring. Someone says, "C'mon, let's go."
"We rollin' now?" Bob asks.
"Yep," says the voice. We crawl out of our beds, grab our bags, and it's back in the van to do it all over again. With today's seven-hour sprint to Greenville, N.C., we have ample time to discuss the band's new record, Four Thieves Gone: The Robbinsville Sessions.
Early last year, the Avetts holed up—like The Band at Big Pink—for 10 days of writing and recording at a mountain house in Robbinsville, N.C. They invited some friends along, too—Brooklyn alt-folker Pale Face contributed heavily, and Scott and Seth's sister, Sarah, played violin on a track. Songwriters Adrienne Young and Ian Thomas also hung out and jammed, though they didn't end up on the record. But this wasn't just a big party. The musicians were early to rise and late to bed, working 12-hour days and recording 31 songs, 17 of which made it onto the record.
While it's not a brash departure, Four Thieves finds the Avetts expanding their palette. The staccato piano attack and analog soundwash of "Colorshow" make it sound like an outtake from Wilco's A Ghost is Born. "Talk on Indolence" is a compelling fusion of high-speed crunk rhymin', Stonesy strumming and rambunctious pirate punk. And on "Matrimony"—an ode to sticking it out through the struggles of marriage—the Avetts filter the Violent Femmes through their unmistakable Southern roots. There's even some heavier drums and distorted electric guitar on the record. "We try to not be afraid to let the song become what it's supposed to," says Seth, "and to not be held within the bounds of people's expectations because we are who we are, and we get to decide what we're supposed to be."
In keeping with the standard set by Mignonette, the band wanted a thematic thread to tie the album together, and toward the sessions' end a concept emerged. After Scott's "Denouncing November Blue" was recorded, he realized it sounded awfully close to Charlie Daniels' talking-country ballad "Uneasy Rider." "We woke up the next day and it was weighing heavy on my mind," he confesses. "I felt a little guilty and really wanted to bring something else to the table to make up for it. So I wrote part of "Four Thieves Gone," and Seth helped me finish it off. We all got together and worked it right there."
"To take influence off something, you're stealing that feeling in a way," Seth elaborates. "And the reason we were four thieves is because there were four people recording the song—me, Scott, Bob and Pale Face. And then, when we're out here [on the road], it's always me, Scott, Bob and Dane. And during recording we're talking about 'thieving' songs, and then on tour it's like we're stealing this feeling for the night. Every night we try to take that feeling with us."
Well, I'll be damned… tell the truth and it does set you free.
"With 'four thieves gone,'" Scott continues, "also there's this double meaning of our commitment to following the paths we're on, which, for the most part, are different than your everyday job. And we're committed, and it puts us on the road, away from a lot of the people we're [normally] in touch with. It puts us out of touch. Look at last night [in that huge house]—nobody could ever imagine where we were last night, and that happens to us a lot. There's 'four thieves gone,' the physical nature of not being there, and also the mental state of not being there. And, the more we do this, we get pulled out of the mental state of working every day on a time clock. We're not there anymore. We see things in a different way. We see things from the outside looking in."
WE CAME FOR ALL THAT'S GOOD, THAT'S HOW WE'LL WALK AWAY
Five weeks later, I'm waiting in front of college-radio station WUOG in Athens, Ga. The Avetts are running uncharacteristically late for an on-air appearance. Finally, I see the familiar Ford van chugging down the street. It pulls up in front and when the doors fly open the band springs into action like a pit crew, grabbing instruments and suitcases full of cables. They hustle up the stairs into the elevator. The doors glide open at the fifth floor and the Avetts enter the station lobby, where they start setting up their gear. It's life in constant motion. A touring musician is like a shark—stop swimming and you drown.
Scott and Seth have a brief discussion about what to play and decide on three tunes. Like an old-time band, the trio gathers around one mic. My mind wanders to Hank Williams at WSM Studios, but the electronic radio gear and wall full of CDs snaps me back to the present. Between songs, the DJ interviews the band. Though they're beat after the trip from Huntsville, Scott, Seth and Bob sincerely but wearily answer the same questions they've answered countless times. Later, during the photo shoot on my Athens apartment's third-story rooftop, I ask Seth if he ever—out of boredom—makes up answers. You know, like Tom Waits? "We used to sometimes," he says. "And it was cool when it was funny, but when it's not, it's like, 'Man, I'm just lying.'"
In a few hours, with the 400-plus fans at the Georgia Theatre doing their best to sound like 4,000, The Avetts walk onstage triumphant. This is what they live for. Deep into the set, they bob and weave through their catalog, vocals chords maxed out, sweating profusely, their boots vengefully stomping the stage as if in retribution for some heinous offense non-performers will never understand. But there's determination in their eyes, the determination to succeed—but only if it's on their own terms, only if it's honest.
"Nothing's going to stop our path that we're carving," Scott told me earlier. "If we want to continue as we are, we don't need a big label to do it. It may take longer without a big machine to cover the ground. But we've taken the attitude of 'so be it, we'll take the time.' The longer it takes to get there, the longer we should be there. The faster you get there, it seems, the flimsier, the more fragile your presence is."
Others Tagged With