4 to Watch: Hoots & Hellmouth

Where Soul Meets Barnstomp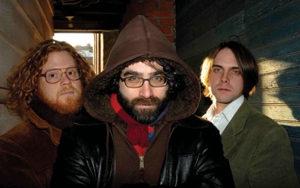 Hometown: Philadelphia, Penn.
Members: [l-r]: Sean Hoots (guitar, vocals), Rob Berliner (mandolin, vocals), Andrew "Hellmouth" Gray (guitar, vocals)
Fun fact: The band's earliest demos were recorded over one weekend with the help of "a big bottle of red wine and a whole fried chicken," Hoots recalls. "We holed ourselves away in our friend's studio and made a holy ruckus."
Why they're worth watching: Their eponymous debut blends gospel and soul with old-time Americana influences, and their shows are not to be missed.
For fans of: The Avett Brothers, Nickel Creek, Old Crow Medicine Show
While industry types rocked out to one buzz band after another at this year's SXSW, Hoots & Hellmouth ditched the festival to play the birthday party of an Austinite they'd just met. "That was the best part about SXSW," Hoots enthuses, with nary a trace of bitterness. After all, he explains, Hoots & Hellmouth was born from "an attempt not to be in a band"—let alone a buzz band. He and Gray first formed the duo in 2005 as an outlet for the rootsier, stripped-down musical tendencies they'd long suppressed while members of touring hard-rock bands.
Two years later, the non-band has remained true to its roots, namely in the form of its live show, during which the band stomps in rhythm on a tambourine-laden stage to make up for the lack of a percussionist. Plus, with a super-flexible, 50/50 record deal with Drexel University's not-for-profit educational imprint, MAD Dragon Records, Hoots & Hellmouth have things going for them that most deliberate bands only dream of.
And, even with their debut LP not even released yet, Hoots says they're already itching to get back in the studio. "We really like the way the record came out, but I think for our next project we want to get back to a more raw approach," he muses. "Just real blood, sweat and tears. Not the band, just literal blood, sweat & tears. No horn sections or funky breakdowns."
Horn section or not, Hoots & Hellmouth had better be prepared, since they're already buzzing in spite of themselves.
Others Tagged With