Band of the Week: The Felice Brothers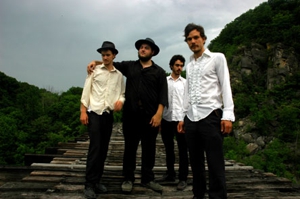 Hometown: Palenville, N.Y.
Fun Fact: On the sinister "Hey Hey Revolver," you can actually hear a lightning bolt strike the leaky, abandoned theatre where these young roots revivalists recorded their rare first album, Tonight At the Arizona.
Why They're Worth Watching: The Felice Brothers are more than unkempt panhandlers of American folk idioms. Plenty of on-the-lamb experimentation supplements the threadbare songs of their self-titled Team Love debut.
For Fans Of: The Avett Brothers, Bob Dylan, The Band, Woody Guthrie
For pundits of modern music journalism, especially ones that love to harp about how criticism has become a silly game of who influenced whom, The Felice Brothers are perhaps an easy target. Their music, cobbled together by three brothers and a former dice player, is often filed under the influence of Bob Dylan and The Band, particularly the pair's legendary 1967 Basement Tapes sessions.
Although its certainly flattering company, James Felice (accordion, vocals, piano, fiddle) doesn't like to hover over the topic. "To me [the comparison] doesn't really matter," he says. "Everyone gets compared to someone, and Bob Dylan casts a shadow over every American musician of the last 40 years. If your band uses guitars, you can be compared to Bob."
The Felice Brothers are a rough and tumble Americana lot that make no excuses for their travails, musical or otherwise. Like their Italian carpenter father, they're not afraid of a little labor. "He's the hardest working guy that I've ever met in my whole life," James says. "That's inspired us to try and do the same thing."
The Brothers' work ethic truly shines on the road where they grin with pride while dropping their spit-shine wares on unsuspecting audiences. James is joined by his brothers Simone (vocals, drums, guitar) and Ian (main vocals, guitar, piano), and together they're the three eldest boys from a family of seven, born in the backwoods of the Catskill Mountains.
Following a rather jarring move from crafting music during their father's Sunday barbecues to playing New York's subways and streets, they employed the help of a runaway dice-thrower and bassist, a 20-year-old called Christmas. During live performances, Christmas is known for keeping time with Simone via a chunk of dented tin roof.
The Felice Brothers' debut for Team Love is an album that looks back at the band's past as much it slouches towards its promising future. In fact, five songs that saw initial release on rare album The Adventures of the Felice Brothers Vol. 1 pop up on the new release, sans reworking. "We recorded those on a first take but we felt no need to re-record," James says. Those are apropos words from a man whose ad-libbing band recorded its most recent album in a chicken coop.
Another of those five originating tracks ("Frankie's Gun!") is an accordion-laced back-porch stomper. It follows the story of a Chicago drug deal gone horribly wrong after the protagonist ferrets away $30 to buy his lovely some clothes. It's the kind of seedy American mythos the band holds as a standard throughout its proper debut record.
Despite the compilation overtones, The Felice Brothers also heralds a mature band, specifically on the muted horn strut of "Greatest Show on Earth." "I really love that song," James says. "Ian wrote that. It's about violence in society. I remember hearing it for the first time on guitar and thinking this is beautiful. We stayed up until 7 a.m. trying to figure out a piano part for it."
The Brothers aren't moody or overly dark despite their gravitation towards murder ballads and violent themes. "Love Me Tenderly" is a bar-top piano showstopper that's ramshackle charm is more mirthful than ominous. It makes sense that this song sits besides some markedly different others on an album that aims at skirting classifications. "We don't care about the genre," James says. "We just care about good music. I always enjoy the concept of stories, and I think that's something we do well."
Others Tagged With