Still Bustin' Loose: Rebirth Brass Band Turns 25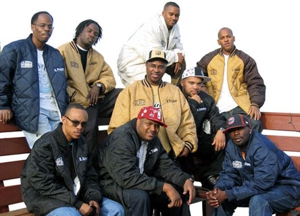 On break from their standing gig at the Maple Leaf Bar in New Orleans, Rebirth Brass Band hits the sidewalk, mingling with fans over Styrofoam bowls of red beans and fried chicken. "We don't think of ourselves as stars. Once you become a star, you can't go hang in the hood," says Derrick Tabb, the troupe's baby-faced, 6'4" snare drummer. "And we love the hood."
Celebrating their 25th anniversary this year, Rebirth has come a long way from their early days, playing for tips in the French Quarter. They've gigged in Europe, Asia and Africa; played stints with The Meters and Grateful Dead. They've seen 19 members pass through their lineup, among them jazz trumpeter Kermit Ruffins. And they've unleashed a signature groove—fast and brash, blazing, freewheeling horns anchored by a fat tuba beat—that's fueled by the street music traditions they grew up with. "We try to make it sound like we're actually playing on the street," explains bass drummer Keith Frazier.
Shunning standard arrangements and set lists for on-the-spot collaboration, hitting their instruments at full volume, Rebirth distinguished themselves from other brass bands, including idols the Dirty Dozen. These days, it's no surprise to see up-and-comers lurking in the shadows at shows, studying Rebirth's chops. Their songs, their playing style, even their two-row configuration have all found a home in other bands' repertoires.
Looking back on 25 years, bandleader and founder "Tuba Phil" Frazier sees the group's diverse following—a trick bag of age, race and class—as their greatest accomplishment. "I'm proud of that," he says, "of being able to cross barriers and put people together."
After back-to-back birthday gigs in New Orleans on May 30 and 31 at the Howlin' Wolf, Rebirth will take their anniversary on the road this summer in support of their new record, 25. The new self-released disc features new recordings of classic Rebirth material, with special appearances by Ruffins, Trombone Shorty and others. A second, live anniversary disc is due out later this year.
Others Tagged With