Dosh: Wolves and Wishes
[Anticon]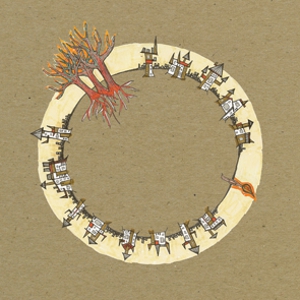 Multi-instrumentalist and talented friends create a vibrant, timeless album
Wolves and Wishes, the fourth album by studio whiz Martin Dosh, is a shimmering, almost completely wordless affair, as zesty and refreshing as a slice of lemon. From the resounding vibraphone riff that kicks off opening track "Don't Wait for the Needle to Drop" to frequent Dosh collaborator Mike Lewis' closing sax notes on "Capture the Flag," Wolves and Wishes presents upbeat, unique compositions that allow the listener's mind ample time to wander freely.
Anticon—the label with a roster that continuously defies labeling—gives its artists free reign, and in turn, they create uncompromised works. Wolves and Wishes offers evidence that Dosh's layered instrumentals seem to have blossomed after a few years performing the role of drummer, keyboard/sampler man and occasional opening act while on the road with Andrew Bird. In fact, Bird's looping fiddle makes an appearance on the aforementioned "Don't Wait..."—one of many guest contributions on the album.
Wolves and Wishes bypasses the field recordings and spoken-word samples prevalent on Dosh's earlier albums for nonsensical vocalizing. Bonnie 'Prince' Billy's appropriately eerie moans float alongside the tempestuous percussion of "Bury the Ghost" while crystalline female "ah-ahs," courtesy of Dosh's fellow Minneapolitans Dark Dark Dark, permeate "Kit and Pearle."
The album's namesake and centerpiece, "Wolves," is a standout track—a driving tour de force that opens with a bleating guitar riff and deliberately, deliciously evolves into a note-for-note standoff between Dosh's synth and Lewis' saxophone. It's an early nominee for one of the best songs of the year and the highest peak on Dosh's most fully realized and cohesive work to date.
Others Tagged With