The Best Movie Houses In America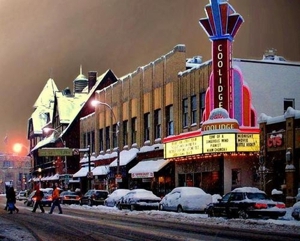 For many of us, film is religion, and there is no more hallowed temple than the local independent movie house. We look to it as a calm voice of reason in a sea of neon-appointed megaplexes; as a secure place of refuge where we discover talented indie filmmakers who've been flying under the radar. There aren't many of these movie houses left (and increasingly easy access to film on the internet probably won't help their cause), but shrewd, creative business moves from owners and plenty of love from neighborhood film buffs has kept top-notch indie theaters in business. Here are some of the best.
Boston
The Coolidge Corner Theatre
The Coolidge has been a neighborhood staple since 1933, showcasing classics and cult hits in restored prints, and running annual all-night horror-movie marathons. Coolidge originals include events like Science on the Screen, which pairs films with lectures from real-world scientific counterparts—an astrophysicist for Jodie Foster's Contact, an anthropologist for David Bowie's The Man Who Fell to Earth. The Coolidge's gorgeously renovated Art Deco theater with a genuine silver screen showcases big-name releases, while smaller theaters and digital screening rooms showcase lesser-known films and documentaries.

Seattle
The Grand Illusion
The plush, red, womb-like interior of the Illusion feels like a film-school screening room designed by David Lynch. The size of a funeral parlor, it seats about 70 people in wide, velvety seats with a tiny screen that rests behind some curtains straight out of Dracula's castle. Seattle's oldest independent movie theater, the Illusion shows crisp projections from an impeccably selected schedule of high-brow art films for the Kurosawa/Polanski set, plus old Hollywood classics and proudly degenerate weirdo fare like 1978 heavy-metal epic Stunt Rock. Unofficial, BYOB-friendly late-night showings are a bonus.


Austin
The Alamo Drafthouse Downtown/Ritz
The Alamo is known worldwide for its traveling road shows, which feature on-location film viewing (example: screening The Shining at the real-life Overlook Hotel), but it made its name as the country's greatest combined dinner-and-a-movie spot. A far cry from the concession stand with the sickly fluorescent light, every Drafthouse has a head chef and a full menu of appetizers, sandwiches, falafel, tacos, pizza, beer, wine, cocktails and more, brought out discreetly during the show. Throw in attentive programming for every night of the week (including the free "Weird Wednesday" screenings of curiosities like The Witch Who Came from the Sea) and you'll start feeling more than a little spoiled.


Minneapolis
The Riverview Theater
The Riverview is one of the classiest second-run spots you'll ever come across. Its mod neon marquee, along with most of the interior, is the same as it was when the place opened in 1948. The lobby spreads out with sleek coffee tables, stained-glass paneling and neat plastic furniture, feeling more like a brat-pack bachelor pad than the average "lived-in" discount neighborhood movie house. At The Riverview, you'll find a great selection of flicks fresh off their first runs, with an eye toward more offbeat fare like the Coen brothers and Woody Allen, all for $3 a ticket.

Chicago
Facets Cinematheque/Videotheque
Don't let its unassuming storefront veneer fool you—the Facets complex doubles as both a first-class art-house cinema and a picky movie collector's dream video distributor and superstore (and yes, VHS copies are still on sale for 99 cents). The Cinematheque section of the building has one screen and is home to a wildly veering program of films from all over the world, films set aside for school-group screenings all year long, and even in-house film appreciation classes aimed at turning anyone who walks through the door into an expert on, say, Polish director Krzysztof Kieslowski.

New York
Film Forum
Some big cities are blessed with go-to archival theaters, places where just browsing their calendar makes you feel like you have an intellectual leg up on the rest of the schlubs you call friends. The Film Forum, a non profit since 1970, is the prototype for this kind of populist-film-school approach, delivering New York premiers of lesser-known independents from all over the spectrum. The three-screen complex in Greenwich Village—its humble quirkiness stemming from the theater's old warehouse-and-folding-chair roots—continues to be a cultural vanguard among cinephiles.

New York
IFC Center
The IFC Center—the refurbished Waverly in Greenwich Village—quickly became the king of New York independent film theaters, and it's easy to see why. Smack in the middle of NYU's film-school epicenter, it's a convenient spot for all kinds of premieres and celebrity appearances (from Jonathan Lethem to Naomi Wolf), and tough programming (including the full five-plus hours of Ingmar Bergman's uncut Fanny and Alexander). Leave your nostalgia for golden-era décor at home; the IFC's functional design keeps your focus where it belongs—on the screen.
Others Tagged With