Eminem and Family Guy's Stewie Griffin to Co-Host Fox on Sunday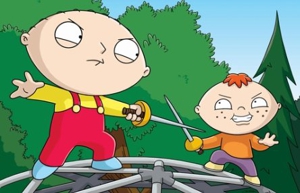 Not that it makes any sense, but Fox has announced that its Sunday-night animation block this weekend will be co-hosted by Eminem, famous rapper, and Stewie Griffin, sinister infant from Family Guy.

It's a little depressing to over-think the demographic overlap here, so let's just get to it. Eminem will voice animated segments with Stewie throughout the night, which includes the season finale of Family Guy (which itself features cameo appearances by Neil Patrick Harris, Josh Radnor and Jason Segel from How I Met Your Mother). A publicist informs us that Eminem will also make a "special surprise announcement," presumably about his new album, Relapse, which officially comes out next week.

"I'm a big fan of talking babies and their humor," Em says in a statement. No comment from us.

Related links:
News: Eminem releases new book, announces Relapse
Ctrl-V: The 10 Best Hip-Hop Songs VH1 forgot
News: Family Guy's MacFarlane signs enormous deal with Fox

Got a news tip for Paste? E-mail news@pastemagazine.com.

Others Tagged With