Elvis Costello: Secret, Profane & Sugarcane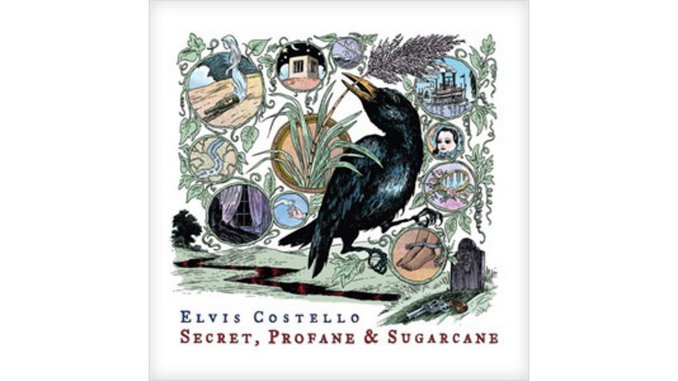 Costello releases his 29th studio album and first for Starbucks' Hear Music, assembling one Tasmanian devil of a Nashville bluegrass record in the process
Given its provenance as an acoustic album recorded in Nashville in a mere three days, Elvis Costello's latest—Secret, Profane and Sugarcane -will inevitably draw comparisons to his last transmission from the Music City, 1981's affectionate if perhaps overly fussed-over country covers essay Almost Blue. But that sort of snap assessment would be a mistake—the record this one most directly resembles is 1986's folk-tinged King of America, which also happened to be the first time Costello collaborated with T-Bone Burnett in the producer's chair, a duty Burnett fills once again here.
Career comparisons aside, more than anything, Costello's latest (amazingly, his 29th studio effort since My Aim is True was released back in 1977) represents something of a back-to-the-roots exercise, featuring a batch of songs hauled out of the closet and road-tested as a solo support act for Bob Dylan in 2007, then refined in group settings at that year's MerleFest and 2008's Hardly Strictly Bluegrass Festival. It's this Appalachian turn of phrase—deftly supported and played with subtle grace by an all-star backing group that includes singers Jim Lauderdale and Emmylou Harris, dobro guitarist Jerry Douglas and mandolin whiz Mike Compton, among others—that stitches the various threads of this record into the whole cloth that it is, given that its songs range from material Costello has written for others (the country-noir tale "Complicated Shadows" and "Hidden Shame," both written for Johnny Cash; "Down Among the Wine and Spirits," originally written for Loretta Lynn), written with other purposes in mind ("How Deep is the Red," "She Was No Good," "She Handed Me a Mirror" and "Red Cotton," all songs Costello wrote for his, as yet, unfinished Hans Christian Andersen opera), written with others at his side (the absolutely terrific Gram Parsons-like tearjerker, "I Felt the Chill Before the Winter Came," co-written with Ms. Lynn) or written by others ("Changing Partners," originally recorded by Bing Crosby). Even with such a grab bag of material, the record hangs together seamlessly.
His prototypically clever and articulate lyrical work infuses the album with a native intelligence that transcends the inherent limitations of any given genre, perhaps nowhere better than on "Sulphur to Sugarcane," a riotous sexual romp through the American countryside that skewers the reputations of women from Poughkeepsie to Pittsburgh and dozens of towns in between in the process. Costello has long since ceased being merely the Angry Young Man associated with early tracks like "Watching the Detectives"—he's become a one-man Rockipedia, and latter-day albums such as this one find him no less devoted to his craft but having one helluva good time doing so, no matter the stylistic zip code of the particular musical station in question.
Listen to Elvis Costello's "I Felt the Chill Before the Winter Came" from Secret, Profane & Sugarcane:
Others Tagged With