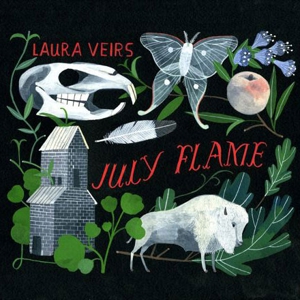 Woodsy, wonderful seventh LP by Portland singer/songwriter
Laura Veirs' seventh album, set for release in the blustery throes of January, takes its name from a kind of peach that finds its way into farmer's-market bins in the hottest weeks of the year—a peach, the story goes, that cured her of a nasty bout with writer's block one steamy Portland afternoon a few summers back. Still, it's hard to imagine a better soundtrack to the chilly months of wood smoke, crackling leaves, deep Vs of geese honking overhead and squash simmering on kitchen stovetops than this collection of heady, steady, pensive songs. Fall is a time to hunker down, to hoard warm memories of spring and summer as a balm against the coming winter winds, to sift through what's been and wonder what's to come, and Veirs does this better than almost anyone.
July Flame is a feel-good record of the oddest sort, a melancholy meditation on happiness and its delicate transience. Early on, Veirs teases out her own temptation and desire. First cut "I Can See Your Tracks" is a lovely exercise in self-restraint ("Oh, I can smell the smoke / From your fire, babe / But I'll leave you alone / And sleep in this lonely cave") followed by the title track, its synth-hazed choruses of "Can I call you mine? / Can I call you mine?" reaching out for something—anything—just beyond her grasp. Later, on "Little Deschutes," when Veirs wonders, "Why care about yesterday's haze / When the stars above are all ablaze?" it feels less like rhetorical supplication than a prodding note-to-self, a would-be mantra.
My Morning Jacket's Jim James and Northwestern mainstay Karl Blau provide glorious harmonies throughout, Blau in particular wailing spooky as an October gale through a barely-shut window on "Life Is Good Blues." Veirs' voice has a slight tendency to sound trapped behind her tongue, which is part of her charm, but it's good to hear her sounding loose and limber, especially on "Where Are You Driving?" and "When You Give Your Heart." "And my stampeding buffalo / Stops in her tracks and watches the snow / Falling through the old oak tree / When you give your heart to me," she sings on the latter, likely marking the first time a singer/songwriter has compared herself in love to a thousand-pound land mammal.
That, too, is part of Veirs' wry charm—as a songwriter, she's equal parts fabulist and naturalist. Her past albums have always felt like fantastical hiking journals set to music, and July Flame follows suit. But if all its brewing storms, battling birds of prey and pollinators flexing their wings seem to suggest a sort of nerdy detachment from proper society—some kind of animistic preoccupation that eschews all concerns of the human heart—well, slow your hurried feet, and consider the world Veirs sees through her spectacle-framed eyes. It's a thousand human dramas writ in weather and earth—the shoots of spring, the hail storms, the deep green rivers all yearning and raging just like we do, always borne forward, out and up, despite our unreadiness, despite our protestations.
July Flame carries a mood of wistful nostalgia thanks to pangs of pedal steel (courtesy of The Decemberists' Chris Funk), heart-shattering viola (by Eyvind Kang, who's now lent his bow work to six of her LPs) and Veirs' nimble finger-picked guitar. This album is warmer and rootsier than her earlier work, which boasted a kind of cautious experimentalism. July Flame is carefully composed, ever-deepening, glinting and glowing in new ways each time it's played; there's an inkling of something greater coming just around the bend, but for now it's Veirs' finest work. And so let us curl up in our burrows with these songs and our own flickering July flames 'til the green shoots return and the rivers run full again. "It's gonna take a long, long time," Veirs sings on her resolute final track. "But we're gonna make something so fine."
Others Tagged With