Stars: The Five Ghosts
[Soft Revolution Records]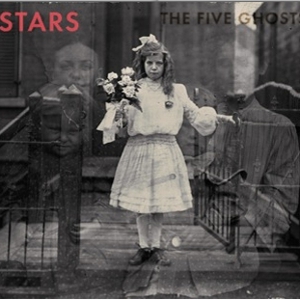 Canadian quintet's sixth full length dials up the drama
Nine years ago, Stars burst forth with Nightsongs, their intelligent, delirious debut. It was Leonard-Bernstein-does-Europop, surging skyward with a sunny warmth that would inform their subsequent albums, Heart and Set Yourself on Fire. With their newest release, though, that flame has flickered into ash. On The Five Ghosts, the love-letters and sing-songy refrains of Heart are nowhere to be found; gone, too, are Fire's passions-set-ablaze. What's left is a world much graver, where lovers die just to haunt each other—and it seems like an absolutely natural progression for the band.
Like the volatile relationships that Amy Millan and Torquil Campbell sing about, Stars' oeuvre has evolved from ebullient to frantic, and occasionally grim. And although autumnal moments have slipped into all of their albums, Ghosts is their first full-on plunge into dysphoria. Millan's exquisite voice flits from smoldering on "Wasted Daylight" to angelic on "Winter Bones"; its beauty, coupled with the band's theatrical flair and a handful of punchier tracks, rescues the album from overwhelming ennui. Despite following the requiem of "I Died So I Could Haunt You," "Fixed" especially lightens the mood without cheapening it.
Stars' dramatic arrangements remain very much alive here, their instrumentation gleaming—as always—with allusions somewhere between New Order's shimmering waveforms and The Smiths' guitar rock. Ghosts' 2007 predecessor, In Our Bedroom After the War, applied extravagant orchestral layers to poppy hooks; it was the band's most dramatic composition to date, and the new album doesn't even attempt to compete. Instead, Ghosts skirts its predecessor's instrumental self-indulgence, allowing its tracks to swim in grandeur—but not drown.
The album does have one bizarre moment of inconsistency. "We Don't Want Your Body" is egregiously glib for this otherwise careful record; after the mournful pageantry of the preceding tracks, it's discordant to hear Millan chirp words like "so you can have some sex with me." Maybe the band's just having some fun amidst all the gloom. Can't exactly blame them, but they're better when they're moping.
Others Tagged With