Admiral Radley I Heart California
[The Ship]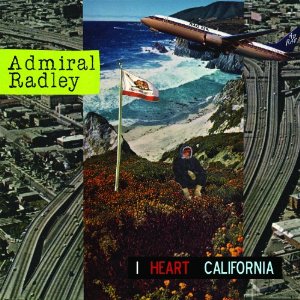 How two established pop acts spent their summer vacation
On their website, Admiral Radley, the sunny, West Coast conglomerate featuring members of indie pop mainstays Earlimart and Grandaddy, claims the band's name derives from a weathered sea captain they met at an art museum in L.A. The marine moniker is fitting, considering the resulting album, I Heart California, sounds like the songs were written after a long lost weekend of partying on the Cali coast.
The song construction on Admiral Radley's album evokes the best and worst of the California surfer stereotype: It's usually funny, if not goofy, and totally laid-back; bro, but almost to a degree that hints at lazy songwriting. Sometimes it works, like on the likable, O.C. Soundtrack-esque single "Ghosts Of Syllables," in which the outlandish title actually makes sense among the hook-laden chorus.
Other times, not so much.
The title track, for instance, starts off with some amusing, cheeky images ("drugs fall out of diaper bags," "fake tits and the symphony") and an innocuous chorus, but then the lyrics take a turn for the ridiculous: "I am California / you're Leicestershire / I'm citrus and sunshine / you're haggis and cider." Huh?
The end of the fuzzy "Sunburn Kids" plays like an older, significantly less grating version of "It's A Small World:" Ukuleles ring out when Hawaii is mentioned; steel drums kick in when we hear "Jamaica."
Like that surfer all grown up and ready to get a job, AdRad excels most when they delve into slightly more serious (but not by much), slightly more stripped-down folk elements. Easygoing acoustic numbers "Lonesome Co." and "G N D N" shimmer and shuffle like the best efforts from Jason Lytle and co., and on the tender "Chingas in the West," the fuzz is put in its proper place as a backdrop to luminous vocal layers.
It's at the beginning of the second half that things start to take a less desirable turn. The whiney, one-note "Red Curbs" sounds like the deranged seed of The Dandy Warhols and Garbage and "I'm All Fucked On Beer" disappoints with its flatulent feedback and half-hearted lyrics. The claustrophobic arrangement of the latter track crescendos with synth bends and moans to an unsettling conclusion and gives off the vibe of a party anthem if the revelers all had a nagging feeling the cops were about to show up and arrest everyone.
I Heart California is the sonic equivalent of a solid beach read—lighthearted, easily digestible and not without a few lagging moments in its prose. It's not a shining example of the craft, by any means, but it's still enjoyable, a soothing late-summer soundtrack devotees of either parent band will particularly love.
Others Tagged With