Charles Bradley: No Time For Dreaming
[Daptone/Dunham]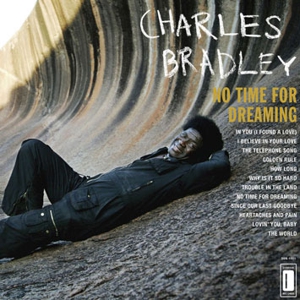 Over the past decade, Daptone Records has established a reputation not only as a cohesive record label, but also as a cultural institution responsible for curating a neo-soul revival with a distinct sound. It's out of this tradition that 62-year old singer Charles Bradley finally overcame a lifetime full of setbacks to debut No Time For Dreaming—one of the best Daptone releases to date.
No Time For Dreaming opens up with "The World (Is Going Up In Flames)" as Charles Bradley's wail reflects the long road he has walked over the years. The soul-stirrer cries out with utmost conviction on "I Believe In Your Love" and "Why Is It So Hard" with six-plus decades of pent-up emotion pouring into his songs. "Heartaches and Pain" resonates warmly through its powerful honesty, as Bradley echoes the evocative delivery of Otis Redding.
While Bradley's croon demands the attention, ultimately it's his partnership with the Menahan Street Band that defines No Time For Dreaming. These soul revivalists are best known for their contributions to Jay-Z's "American Gangster" and Cee-Lo's "Georgia." But their work with Bradley hits their sweetspot as they lay down a lush, funk-laced backdrop for Bradley to work his magic. No Time For Dreaming not only prevails as a defining culmination of Bradley's lifelong musicianship to date, but also furthers the argument that Daptone Records can do no wrong.
Others Tagged With