Parks and Recreation Review: Season 3 Premiere
[NBC]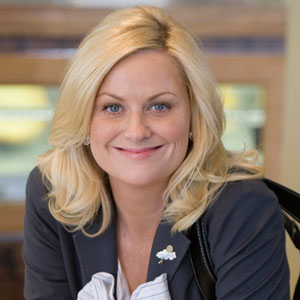 I went on record a year ago with the kinda controversial opinion that Amy Poehler's Parks and Recreation had surpassed the already venerable 30 Rock (Community is now the best of the bunch, but that's another story). This was roughly akin to my other 2010 declaration of the superiority of Five Guys' burgers over In-N-Out's. I'm sticking with both declarations, though the mid-season (finally!) premiere of the third season of Parks and Rec didn't necessarily drive the point home.
Last season's denouement saw the parks department shut down due to budget cuts (followed by the show itself being missing from NBC's fall lineup). The return of the show dabbles just a bit in the meta, tapping on the fourth wall with an opening segment featuring Leslie gathering the band back together with yelps of "We're back!" followed by each character's (or Leslie's) happy rejection of their replacement work. Well, except Nick Offerman's hilariously dour Ron Swanson, Bush-esque in his dislike of the government he helps to run. The rest of the episode features two Leslie Knope schemes—to create a raison d'etre for her team in a nearly budget-free environment and to convince Ann Perkins (Rashida Jones) to use her feminine charms to shake loose some additional government dollars.
Toward the end of Season Two, the already-terrific ensemble cast (each a blissful combination of likeable with charming flaws) was buttressed with two additions. Rob Lowe joined as the hyper (and hyper-optimistic) Chris Traeger, a fixer for financially-strapped municipalities like Pawnee. He's joined by Adam Scott's Ben Wyatt, the numbers guy and the bad cop to Lowe's good cop. Lowe is funny and Wyatt is mildly charming, but one wonders if the original cast's talents are being diiluted with the new additions.
Aubrey Plaza's pouty, snarky April Ludgate definitely deserves more screentime, and I'm always looking for more Ron Swanson—a future hall-of-fame sitcom character. Aziz Ansari's over-the-top Tom Haverford could have his own show (well, he did). With Rashida Jones and Chris Pratt, this much much comedic firepower is a 1927 Yankees murderer's row. Eschewing the ironic caricatures of 30 Rock or the surrealism of Community, it's a gentle blend of silliness and quasi middle-American reality (reflective of the show's Indiana setting), enjoyable without the intellectual work it takes to keep up with the rapid-fire clever-joke rate of the other NBC Thursday standouts.
But the show could also collapse under the weight of having too many plates spinning. The episode's theme, then, is meta too. "Go Big Or Go Home" serves as the call-to-action for Leslie Knope and Andy Dwyer, but also for the show's third season.
Others Tagged With