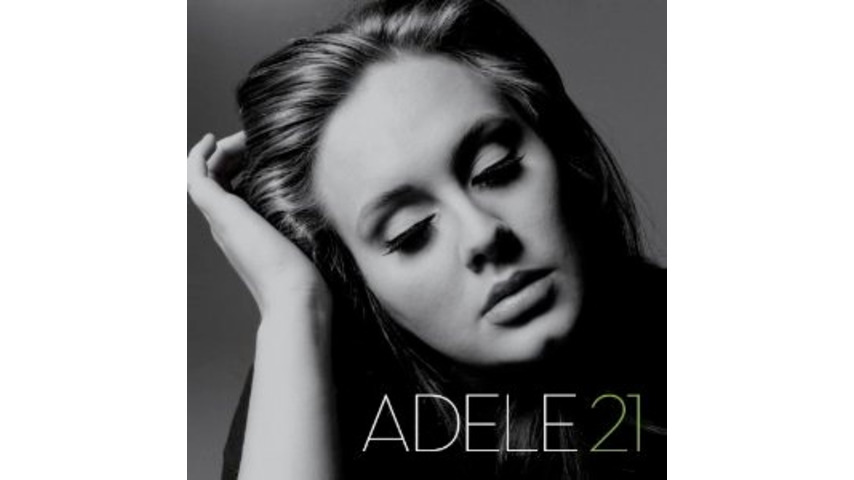 Ahh, the wisdom that comes with old age.
British alt-soul prodigy Adele Adkins' debut, 19, was stunning in spots, earning both a watchful eye from critics and a should-have-been-huger hit single, "Chasing Pavements," that perfectly demonstrates what makes her offbeat charm so appealing: a panache for gigantic hooks strung together in melismatic webs of old-school vigor; an instrumentally-dense arrangement equally referencing big-band and indie-rock; and most importantly—that voice. Oh, God, that voice: a raspy, aged-beyond-its-years thing of full-blooded beauty. While Amy Winehouse may have proved the more omni-present soul-throwback at the end of the decade (partly because of her extravagant social habits), Adele appeared to be the ever realer deal.
So why wasn't 19 a great album? Because, well, Adele turned out to be one weird, unpredictable little soul belter who refused to play to her own strengths. Fans who picked up a copy of that album expecting a series of "Pavements"-esque jams were probably (and rightly) confused when, for example, the slow, minimal "Best for Last" lazily emerged from their speakers with nothing more than smoky, chordal jazz bass underpinning Adele's wandering vocal. Several tracks on 19 are stripped way back, eschewing hooks in favor of coffee-house atmosphere; and while, on one hand, it was nice to hear the youngster not playing to anyone's expectations while exploring an eclectic range of moods, those less upbeat moments simply happened to be less interesting.
On 21, she sounds refreshed and poised to attack. There's no change in style—this is still the stuff of a sensual modern pop-noir landscape, heavy on retro textures and relationship drama. But she's sacrificed some of her debut's sparse moodiness, resulting in a more cohesive, immediate batch, littered with knock-outs. Working with an eclectic all-star production team (including Rick Rubin, Paul Epworth, and Ryan Tedder), Adele emerges with a well-manicured batch of songs that, while still showcasing her interest in layered musicality, shoot straight for the pop charts with each go-round—which is exactly where she should be aiming. Aretha-esque back-up vocalists and all, opening soul stomper "Rolling in the Deep" is _21_'s "Chasing Pavements," flaunting a globe-sized hook—Adele's vocal alternating between vulnerable quiver and husky belt, cracking and shimmying over a slick piano pulse and Motown muscle.
On the other side of the accessibility coin, there's the tearjerking Turning Tables," which swells from a minimal piano-and-vocal ballad into a cinematic pop anthem laced with Broadway-worthy strings. On 19, a track like this, alleviated from percussion, cruising on a slower tempo, would have been a snoozer. Here, its freedom from a pop backing track serves as a fitting counterpoint to its heartbroken, hollowed-out lyrics. In seems that, over the past few years, she's finally learned to swing for the fences—in moments of both sass and tenderness, of both introspection and ferociousness.
This is what American Idol should sound like. This is what pop radio should sound like. This is what Adele should sound like.
Others Tagged With