Modern Family Review: "Princess Party" (Episode 2.15)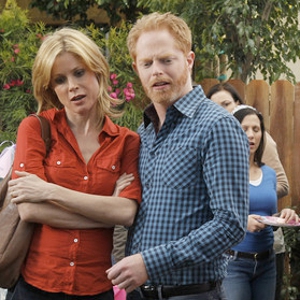 Stunt casting is always a double-edged sword, and this week's episode of Modern Family had not one, but two, special guest appearances: an almost unrecognizable Shelly Long as the ex-matriarch of the Pritchett clan, and Matt Dillon, as Claire Dunphy's (Julie Bowen) high school boyfriend.
Long plays Claire's mommy dearest whose visits turn her daughter into a "psycho…scary…drunk" (this, according to the Dunphy kids). This time, Dede's coming to town for Lily's birthday, a "princess party." In an amusing introductory sequence, Alex (Ariel Winter) is practicing the cello upon Dede's arrival, and begins playing the Jaws theme. The camera jumps back and forth from Claire who's fortifying herself in the kitchen with another glass of wine.
This wouldn't be Modern Family if everyone got along, so of course, the two get into it right away and begin rehashing the past. "I read your diary because I wanted to see if you were on drugs. It's called parenting, Claire," explains Dede, without an ounce of remorse. Mom also has another zinger in store for her daughter: Dede ran into Claire's high school boyfriend Robbie Sullivan at the airport and invited him to dinner. Awkward. But it gets even better for Claire as Dede ends up having Robbie for dessert.
Mitch (Jesse Tyler Ferguson) and Cam (Eric Stonestreet) are busy prepping for the princess party and the two have a disagreement whether Fizbo "the needy" clown (aka Cam) should make an appearance at the party. Mitch pleads with Cam to "just be a dad" instead of making Lily's birthday about him. Cam's such a drama queen, but he loves Mitch and Lily and eventually acquiesces (though he tries bringing a court jester to the party one more time). Mitch's answer is still no.
Jay (Ed O'Neill) and Gloria (Sofía Vergara) are also getting ready for the party by recording voices for Lily's gift—a children's book about a bear. Jay's being a curmudgeon and questions Gloria's grizzled, angry bear voice (that not surprisingly has a thick, Columbian accent). Jay asks, "What was that?…I was going to get a crucifix."
Things finally come to a head at the princess party when Claire, Mitch and Jay try and figure out why Dede is being such a bitch. After Claire tells them that Dede and Robbie are hooking up, Jay utters the best line of the show: "What the hell is she doing? He's half her age." Mitch and Claire just look at their dad. Then, a beat: "Don't say it." Shortly thereafter, we find out who Dede is really out to get—it's Gloria, vivacious, curvaceous wife number two (who's hopped up on Xanax and tequila because she fears wife number one).
While Long and Dillon were perfectly fine in their roles, they didn't bring an extra-added spark to the episode. But it's not entirely their fault, because the characters were written so one-dimensionally, there wasn't much room for the actors to stretch. Dede and Robbie could just as well have been played by lesser known actors.
Despite the fact that the Modern Family is only in its second season, and the cast just earned the Screen Actors Guild Award for Outstanding Ensemble for a comedy series, big-name stars always make viewers a little worried that a show has lost its mojo—and that the Fonz might be strapping on his waterskis, getting ready to square off against a shark in the water.
Stray Observations:
• Cam (holding up two pairs of clown shoes): "Gun to your head, which pair should I wear? Mitch: I would say pull the trigger."
• Robbie: "I've got my abs, I've got my hair and I've got a super sweet job driving that limo outside."
• Mitch: "Monica can't come to the party. Her Mom is going to be in Chicago…" Cam: That's fantastic, what part is she playing? Mitch: The city of Chicago."
• Robbie: "Maybe a fuzzy navel wine cooler will loosen you up… It sure used to!"
• Claire: "I'm screaming at a princess party, Mom!"
Others Tagged With