Del McCoury and Preservation Hall Jazz Band: American Legacies
[McCoury Music and Preservation Hall Recordings]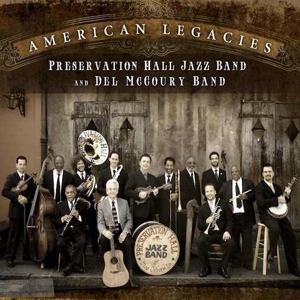 When the saints go marching in the holler
The intersection of bluegrass and jazz isn't exactly a bustling one, but the successful fusions of the past – Bela Fleck's genre-defying albums, David Grisman's Dawg music – have placed a heavy emphasis on improvisational interplay and breakneck solos. So the meeting of Dixieland revivalists The Preservation Hall Jazz Band and bluegrass traditionalists The Del McCoury Band is more than a little perplexing and intriguing. Both have had their forays into adventurous musical waters, but both are primarily known for their excellence in strict, formal, and relatively hidebound genres. Foggy mountain breakdown on Basin Street, anyone? Just how does that work again?
As American Legacies amply illustrates, the answer is that it works just fine. McCoury, who started his five-decade career playing with the original bluegrass iconoclast Bill Monroe, has shown an increasing elasticity and flexibility of late, touring with Phish and recording with Steve Earle, and here he seamlessly blends his bluegrass band with the brass and rhythm section of PHJB.
And make no mistake: It is McCoury who does the bending and the blending here. The song selections represent a typical cross-section of the standard bluegrass and Dixieland repertoire – McCoury originals and Hank Williams and Ernest Tubb covers from the country and bluegrass side, Jelly Roll Morton covers and PHJB originals from the Dixieland side – but the sonic approach is very much dictated by Ben Jaffe and his New Orleans cohorts. Jaffe's tuba provides the anchor, Rob McCoury's banjo plays primarily a rhythmic role, and the PHJB's Mark Braud (trumpet) and Charlie Gabriel (clarinet) and the DMB's Jason Carter (fiddle) rotate the solo duties.
Most significantly, Del McCoury shares the singing duties with Gabriel, Braud, and longtime PHJB vocalist Clint Maedgen. None are slouches, and Gabriel brings a raspy dignity to the Fats Waller soundalike "A Good Gal," but none are Del McCoury, either. The relative scarcity of his sweet tenor is the only minor blemish on the album.
What is remarkable is that there is no real attempt at fusion on American Legacies. This is distinctive New Orleans Dixieland with occasional flourishes of bluegrass instrumentation, but it coheres quite well. The fiddles and clarinets interweave magically, and it manages the considerable feat of swinging like crazy. As iconoclastic and stodgy as the piece parts might be, these old codgers sound like they're having a ripping good time.
Others Tagged With