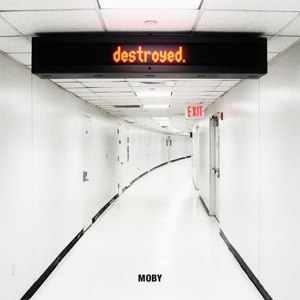 My first encounter with Moby, as I imagine was the case for many people, was in 1999 when "Southside" from his album Play received widespread radio coverage, thanks in no small amount to Gwen Stefani's featured role. I remember feeling a range of emotions about the song, beginning with ambivalence, peaking at pure hatred due to its total pervasiveness, and eventually sliding into the realm of fondness some years later. However, the damage was done. 2002's "We Are All Made of Stars" did nothing in the way of convincing me that Moby was anything more than a mainstream, cater-to-the-masses peddler of cheap electronic thrills.
Luckily, I was wrong. Many years (and five albums) later, Moby returns with Destroyed, a 15-track experimental electronic affair and a far cry from the "South Side" and "Stars" of times past. This isn't to say Destroyed is perfect—far from it in fact—but it certainly has swayed my opinion of the 45-year-old producer. Listening to Destroyed, you wonder whether it was intended as a collection of individual tracks or a single collective unit. Truthfully, either explanation would make sense, but not particularly for the reasons you might think. It is an album that suffers from a crisis of identity; however, this is not necessarily a bad thing. Taken individually, many tracks have seemingly nothing in common. If the album is a journey, by the end I can barely remember where I started, but it doesn't matter. The best moments come when the different elements come together to hit at once.
An early standout is the third song, "Sevastopol." It hits with the kind of varying landscape that I want out of an electronic track, equipped with flowing synth waves over a strong electronic current. Occasionally topped by airy, indiscernible vocals, it gives the impression of being lost at sea, which, when followed by the minor-progressions of "The Low Hum" seems fitting. As the lyrics say, "I'm in love with this isolation." Mid-album discord comes from "Rockets," aiming for a beautiful dissonance; the offbeat lyrics are more distracting and annoying than anything, but "After" succeeds where "Rockets" fails. While it initially seems repetitive, simplistic, and seemingly boring, the force builds to an almost cinematic level, dispelling any doubt. Follow-up "Victoria Lucas" hits with a catchy beat and a delicate piano two-step slowly layered with various elements, building and culminating into something infectious. It is the kind of song I would have no idea how to dance to — it just makes me want to dance.
The album would truly shine overall if it didn't contain too many songs that are less songs and more experiments in sound. That's not to say this is a major problem, but instrumental, orchestral arrangements seem strange when they come 12 songs through a 15-track LP. It makes sense, in the grand scheme of things, as everything comes together in the penultimate track. Combining all the various elements—orchestral and electronic—seen across the Destroyed landscape, the eight-minute "Lacrimae" shows just how far removed Moby is from that image I had formed in my head. Soft and subtle, but also strong and compelling, it, along with the two-minute orchestral that follows, closes the album confidently.
Others Tagged With