Modern Family Review: "Good Cop Bad Dog" (Episode 2.22)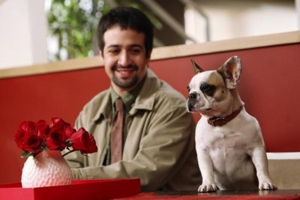 Last night's episode of Modern Family focused on role reversal, with the family heads intentionally—or unwittingly—trading places with their partners. The good cop, bad cop routine worked with varying results among the Pritchett and Dunphy clans.
Ty Burrell's bumbling Phil Dunphy was hands-down the episode's scene stealer. Phil and Claire decide—well, really Claire decides—that Phil needs to take over the family's disciplinary duties, so she can be viewed as the "fun" parent for a change. Though he'd rather ride go-karts with Luke and Manny, we all know who wears the pants in the family, so he stays at home to make Alex and Haley clean their disgusting bathroom.
From his use of subtle facial expressions to over-the-top physical comedy (like landing spread-eagle on the hood of the car to stop the girls from driving off) Burrell made a meaner, tougher Phil Dunphy fun to watch. His Jekyll to Hyde transformation was subtle and believable, acting like a drill sergeant with his daughters one moment and then turning the corner and getting nauseous at the girls' shower-drain hair clump the next.
Also switching roles were Mitchell and Cameron, when Cam the caregiver (the "mom" in the relationship, as seen in last week's episode) is stricken with the flu the day of a Lady Gaga concert. Mitchell really, really wants to go to the concert, but is torn between going and staying home to nurse his man back to health (in other words, watch him sleep). Mitchell's guilt is torturous, so we're entertained in the process. There wasn't much of a story here, but Jesse Tyler Ferguson (Mitchell) made the most of his role as mom for a day.
The weakest storyline focused on Gloria's soft-spot for people down on their luck and Jay's tough-guy facade. We meet Guillermo—guest star Lin-Manuel Mirada of In the Heights—who's sitting at Jay's kitchen table with a ridiculous mullet and glasses. He's there to pitch an idea to Jay: a dog training system in a canister. Guillermo's product pitch fell somewhere between the Sham-Wow and Pajama Jeans infomercials, so Jay honestly tells him that his idea sucks and that he needs to find a new idea. Gloria, who can be tough-as-nails one minute and a damsel in distress another, is upset, but promises to try and say no more often.
In the end, it's Guillermo's cute dog that proves to be Jay's undoing. Guillermo takes Jay's advice and decides to go back to school and give up dog training, and he gives up the dog, too. Despite his blowhard exterior, we knew that Jay was going to keep the dog. We saw that cliche coming a mile away.
"Good Cop Bad Dog" was an uneven episode, but it still had it moments. It also proved that the show's writers don't need to go Gaga in storylines to drive the action. Modern Family is always at its best when it focuses on the little things that drive us nuts about the people we love, dirty bathrooms and hair clumps included.
Random Observations
-The episode was directed by former child actor Fred Savage (The Wonder Years)
-Claire: "What was good about Luke's report card?" Phil: "He didn't lose it."
-Mitchell on Lady Gaga: "It's the one gay cliche I allow myself."
-Jay turning into the bad cop parent: "No more lies! You poked, the bear, girls. You poked him!"
-Claire trying to be the "fun" parent at the go-kart track: "You're going down, Delgado!"
-"If you want intense family drama, rent Spy Kids."
Others Tagged With