Mister Heavenly: Out of Love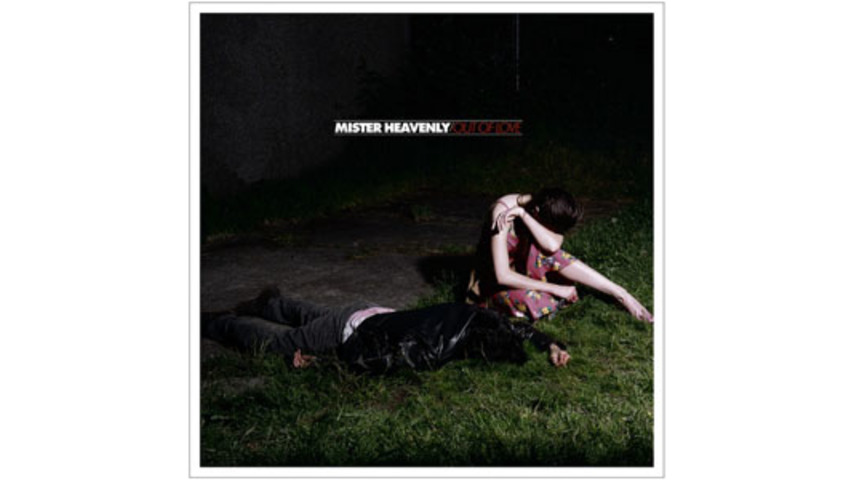 Indie-Rock Supergroups: Sometimes they work (see: psychedelic goof-offs GAYNGS); sometimes they underwhelm (see: high-brow romantics Swan Lake); sometimes—more like rarely—they change music forever (see: Broken Social Scene).
On paper, Mister Heavenly—which combines the talents of Man Man frontman Ryan Kattner, Islands mastermind Nick Thornburn and Modest Mouse drummer Joe Plummer—looks like an intriguing concept, but also a likely disaster. After all, Kattner (known professionally as the eloquent Honus Honus) earns his living grunting like a possessed lumberjack over indie's quirkiest kitcken-sink rumble, while Thornburn is an indie-rock classicist with a sweet, almost anonymous voice and a stylistic palette that, even at its most exploratory, puts melody before mayhem. But the pairing, in spite of (or perhaps because of) its head-scratching premise, turns out to be…yes, Heavenly.
"I always thought that the two of our voices together would make an interesting contrast since they occupy very distinct ends of the vocal spectrum," Kattner says in a press release. And he certainly has a point—perhaps no two other voices in the loose affiliation of indie rock could sound further apart aesthetically. But Out of Love's pummeling opener, "Bronx Sniper," quickly puts any potential awkwardness to bed. The track opens in Islands territory, with dreamy whammy bar blasts underpinning Thornburn's vocal balladry. Then the guitars kick in, along with Plummer's hi-hat-heavy beats, building to Kattner's wicked chorus growl. "This heart's a stranger," he pleads—the sound of a bearded man begging at the foot of his lover's bed.
The trio has labeled their stylistic fusion "doom-wop," and their writing sessions dictated that each song wrangle doo-wop's influence, either lyrically or musically, into their rowdy stew. But that description sells the music short. "I am a Hologram" is a blast of rollicking ballroom pop; their (I guess) calling card, "Mister Heavenly," is a fist-pumping rocker built on Thornburn's stinging guitar figures; the awkwardly sexy "Reggae Pie" indeed touches a Jamaican nerve, gorgeous synths interjecting between Kattner's desperate come-ons. These songs do feel like true collaborations in terms of their sonic DNA—you can hear the hallmarks of each individual player: Plummer's disco-prog strut, Thornburn's instrumental finesse, Kattner's schizoid passion.
Thornburn is a more-than-capable songwriter—and an even better arranger; his songs with Islands are typically dense and layered, always immaculately put-together. But at times in his band, he gets lost in his own head, leaving some songs suffering from a stuffiness that breaks the barrier between artist and listener. On the other side of the coin, Kattner's Man Man are visionaries themselves, covering as much stylistic ground as Frank Zappa with one-third of the annoyance—this year's Life Fantastic is their finest work to date. But sometimes their demented approach is easier to admire than to actually enjoy. With Mister Heavenly, they've merged their styles seamlessly, finding a happy middle-ground that plays to both artists' strengths. With Thornburn at his side, Kattner maximizes his melodic focus. With Kattner at his side, Thornburn loosens up significantly, occasionally sounding like he's actually having fun. Plummer, meanwhile, plays the drums quite well.
It was a wise choice to close with the epic "Wise Men" since there's pretty much no way to follow it. The barbershop harmonies and ballad-esque chord structures are there, but Thornburn's spacy guitars and Plummer's rhythmic thrust take Kattner's simple piano revery someplace entirely new. It's rare you listen to a song that feels so familiar yet so unlike anything you can tangibly point toward.
With their demanding (and more famous) other projects still going strong, it's hard to say whether or not Mister Heavenly will release another album. If that's the case, they've left a weird, unforgettable stain on the shirt of indie-rock.
Others Tagged With