Moonface: Organ Music Not Vibraphone Like I'd Hoped
[Jagjaguwar]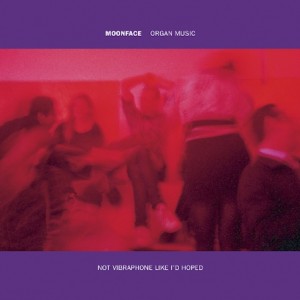 There's a pretty decent chance that if you find yourself questioning whether or not a rabidly bleeping and organ-driven track involves Spencer Krug—it probably does.
By conquering the dilemma of multitasking, the Canadian mastermind successfully manages to keep tabs on a steadily increasing roster of side projects that, when he's not serving alongside Dan Boeckner as the co-leader of Wolf Parade (who recently announced an extended hiatus) and leading fellow Canadian rockers Sunset Rubdown, occasionally includes Swan Lake, a handful of other acts and his recently developed solo project under the Moonface moniker.
Organ Music not Vibraphone like I'd Hoped is the first full-length release from Krug's effort, a follow-up to last year's 20-minute single track debut EP, Dreamland EP: Marimba and Shit-Drums, which features the artist putting his own spin on the marimba, a traditional West African wood-block percussion instrument.
At around 37 minutes, Organ Music consists of a scant five songs, all of which run between an initially daunting six to eight minutes long. Full of uncomfortably shifting tempos, the record captures Krug's version of a tripped-out otherworldly safari, filled with moments of terrifying uncertainly and glimpses of uncharted beauty.
Hidden among the record's jumbled and sprawling synth landscapes are the building blocks of structure that keep Krug's dreamscape wanderings in-check, without polishing over their rough and unpredictable nature. Organ Music's second track, "Whale Song (Song Instead of a Kiss)" opens with a sinister tone, pairing echoing vocals with repetitive and pulsing lines of organ accompaniment before blossoming into a gorgeously layered burst of instrumentation, while on "Shit-Hawk in the Snow," Krug chants "hyp-hyp-hyp-hypnotize you/hyp-hyp-hyp-hypnotize you/hyp-hyp-hyp-hypnotize you;" perhaps the most telling line of the record.
Organ Music not Vibraphone like I'd Hoped's chaotic nature shouldn't be reduced to just a skewed version of the artist's other projects, because while the record is commanding and at times difficult to stomach, it is perhaps as clear a glimpse into Krug's psyche as we've ever seen.
Others Tagged With