Up All Night Review: "Working Late and Working It" (Episode 1.03)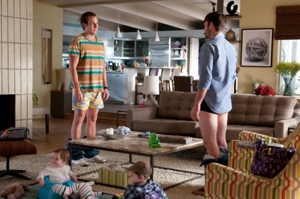 At first, it looks like last night's episode of Up All Night is going to continue to provide one-half of a smart and funny sitcom and another half of disappointing jokes that provides half-laughs on top of a weak plot. The Chris/Reagan storylines over the first two episodes were witty and at times adorable. So far Ava has been nothing but a series of let downs.
Somehow this episode failed at both expectations. While Chris and Reagan supplied a heart-warming storyline with its fair share of laughs, it was not up to par with the first two episodes. Meanwhile, Ava's plot, though boring, had some great moments that made me laugh harder than the rest of the episode.
"Working Late and Working It" keeps the sitcom honest and shows what it's like to be in a relationship that had all of the sexy sucked out of it. It's fresh to see the role-reversal of having Chris stay at home and want nothing more than to have his spouse re-ignite the romance. Too many sitcoms still portray wives as stereotypical needy wives, and I for one am tired of seeing the played out storyline. Chris, tired of Reagan coming home late and changing into sweatpants, decides to do something about it. He turns to fellow dad, played by an underused guest-star in Will Forte to try to be more like Justin Timberlake and bring "SexyBack." What results is a terrific scene that hits on all notes. The one thing I didn't understand is why the writers/director made Chris dress frumpier than he always does just to provide a better visual. I feel the dialogue and interactions would have been enough to push the humor at the audience.
While the character of Ava is fun and could be entertaining, she continues to hinder the development of Reagan and Chris as parents. In this episode we find out she used to be a pop-star a la Paula Abdul and had a rocky relationship with B-Ro, from a Color Me Badd knock off R&B group. Maybe that could become a reoccurring joke in future episodes and provide a chance to flashback to pre-baby/talk show Reagan and Ava.
When Reagan finds out B-Ro is now engaged, she knows Ava is about to go off the deep end and sure enough during a commercial break of her own show Ava rushes to the control room and attempts to break things but is unsuccessful. No matter how predictable the scene is, slapstick Kramer-esque jokes never get old. I only wish Maya Rudolph didn't undersell the body language of her trying to rip a monitor off of the wall. The one really funny moment was near the end when Reagan interacts with three guys she thinks are in B-Ro's posse followed by Ava repeating the same exact conversation.
After three episodes the writer's have provided a likeable show that is getting steady ratings so there's no worry for the producers to do anything drastic. I feel like that even though this was a down episode (last week's "Cool Neighbors" was the best so far) the series is still one of the best of the programs to premiere this season.
Both Applegate and Arnett don't overact their characters and both seem able to carry the roll as lead without any problems.I've said this about the past two episodes, but once the kinks are worked out Up All Night has the potential of being a breakout hit and potentially a keeper.
Others Tagged With