Van Hunt: What Were You Hoping For?
[Godless Hotspot]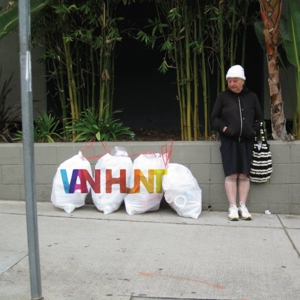 For a while, Van Hunt was a well-connected industry type, writing and producing for pop singers like Dionne Farris, Joi and Nikka Costa. He's even managed by Randy "Pitchy Dawg" Jackson. But beneath his velvet-smooth, VH1-friendly lover man persona is a bit of a superfreak. His evocative arrangements have always shown touches of Prince and Peter Gabriel; he covered Iggy Pop on his sophomore album and recorded a third album so free-wheeling and unconcerned with genre or anyone's hopes that he become John Legend 2.0 that his previous label refused to put it out it. The punk-inflected Popular can be found on the internet, but has yet to garner an official release, and Hunt left EMI on bad terms.
After a few years of regrouping, he's back with What Were You Hoping For?, which he recorded himself and is releasing through his own label, and he's clearly thrilled to not have to answer to anyone. Over morose strings and a languid trip-hop beat he talks about having to "work your way through the crowd/overcome the place you come from" on "It's A Mysterious Hustle," and the title track is a leisurely collection of metronomic drumming, random voice samples and chicken scratch riffs because there's no one who can tell him he can't do that sort of thing anymore. But what makes What? such a blast is hearing a talented craftsman indulge in his inner wild artist after years of playing nice. The wailing garage rock of "Watching You Go Crazy Is Driving Me Insane" is a better Strokes song than anything on Angles, and "A Time Machine Is My New Girlfriend" (who knew this guy was funny?) is rolling punk number that proves that Van Hunt the producer has a knack for recording great drum sounds. Drummer Ruthie Price is the secret weapon here, equally adept at playing unhinged and delicate, and quite good at doing an impression of a drum machine or John Bonham when asked.
Van Hunt runs the gamut from Everly Brothers harmonies, to smoothed-out soul with spacey edges to lots and lots of Prince homages. (Steal from the best.) He sometimes comes off a bit like he's exploring the idea of a genre more than actually writing a song ("Eyes Like Pearls" get dangerously close to Kravitzing) but generally has enough enthusiasm and hooks to make his celebration of musical freedom worth riding along with.
Others Tagged With