Indigo Girls: Beauty Queen Sister
[Vanguard Records]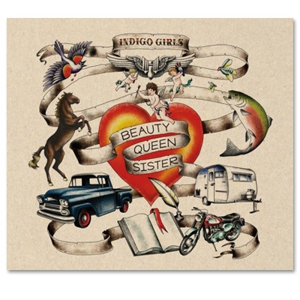 Amy Ray and Emily Saliers of Indigo Girls have known each other since elementary school and have been playing music together for over 25 years. Their songs have always been pleasant folk-country stories, and with the duo's 12th studio album, Beauty Queen Sister, Indigo Girls continue that trend. While the album is more country ballads than the indie sensibility that we have attributed the word "folk" to, the talent on the album holds up against the young, fresh acts filed under the folk genre today.
Beauty Queen Sister opens with a traditional folk ballad, complete with fiddles and harmonizing melodies. "Share the Moon" is a soft opening for a record, but it truly sets the pace for the rest of the album. Even the fast-paced "Beauty Queen Sister" fits into the realm of the duo's sound. Their classic country sound tries to infuse something new, but Ray and Saliers fall back into what is comfortable for them. Their sound has worked for so long that the move into a more traditional approach is a natural progression for them as a duo.
"War Rugs" is a stand-out on the album with an interesting vibe that sticks out from the rest of the songs while still meshing in with the album as a whole. The beat is off-kilter, but in a fun way. It sounds like a track that was meant to be recorded by Neil Young, circa "Horse With No Name," but never saw the light of day.
The one concern with the unified approach to each song is that it's hard to differentiate a lot of the songs from one another on the first listen. Beauty Queen Sister will please fans that already love Indigo Girls, but the repetitive nature of the album might struggle to bring in new listeners. This is a pity, because the subtle differences really stand out upon re-listening to each track.
Others Tagged With