Modern Family Review: "After the Fire" (Episode 3.08)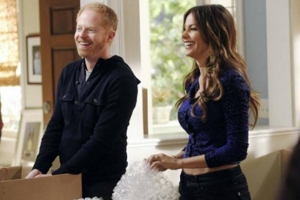 There were moments of surprising absurdity (such as a quick alpaca sighting) in this week's Modern Family—a welcome relief to viewers subjected to tired sitcom formulas week after week. (Yes, Whitney, we're looking at you.)
The episode, "After the Fire," written by Danny Zuker and directed by former Wonder Years actor Fred Savage, brought the Pritchett and Dunphy clans together for a purpose: Rand-Aid. The Rands have lost everything they owned in a house fire, so it's Claire "Wonder Woman" Dunphy to the rescue. She recruits her entire family to come over and pack up the donations.
The family is shaken up by the plight of their friends (whom we don't recall ever meeting before). The situation's been so upsetting that Cameron hasn't been able to sleep for a week. Unfortunately, Mitchell forbids him from taking any more sleeping meds because of the side effects. We've all heard the stories of sleepwalking, sleep eating or even driving in an Ambien-induced haze. But Cameron's reaction is much, much worse. He admits: "I sleep clown."
The camera then cuts to Mitchell turning over in bed to see his hubby sleeping in full clown regalia—the stuff that nightmares are made of. Eric Stonestreet plays it straight, making Jesse Tyler Ferguson's reaction even more hilarious.
Jay and Phil were another exceptional pairing in this episode. After Jay throws out his back moving boxes, we learn that Phil is a licensed masseur: "Before I heard the siren song of residential real estate, I was bitten by the rub bug."
Jay hesitates on getting a massage from his usually too eager to please son-in-law, but finally gives in. When he opens the door to the upstairs bedroom, we see that Phil, dressed in yoga pants and tank top, has pulled out all the stops: massage table, New Age-y music and candles. The scene plays out exactly like scenarios in day spas everywhere when Phil whispers to Jay, "OK, now just disrobe and place the towel over your buttocks," then slowly turns away for privacy.
Phil then jumps on the table to straddle Jay: "Take a deep breath and let me transport you to a land I call 'Relaxistan.'" In a moment of massage ecstasy, Jay utters, "I love you." And Phil freaks out—but not for the reason Jay thinks. The entire scene could be ripped from a Christopher Guest film, and we couldn't stop laughing.
Other plots didn't fare as well. Claire making fun of Gloria's accent and teasing Mitchell about turning Gloria into their "new mom," showed a bitchy, spiteful side of Claire that wasn't appealing. The only redeeming moment came at the end when Claire finally admitted her jealously of Gloria and Mitchell's friendship. Julie Bowen displayed a more vulnerable side in that scene that added a moment of pathos to the otherwise annoying storyline.
We're also a little tired of Uncle Cameron's endless stories of his days growing up on the farm, driving trucks and tractors before he was knee-high to a bullfrog (or something like that). He's picking up Jay's truck with Haley and Alex to deliver the fire donations. Cam's incensed when he thinks the girls are stereotyping him: "Surprising? That a gay man can drive a truck?" No, Cam, the girls are justifiably scared of your driving skills—being gay has nothing to do with it.
One scene with the kids we did enjoy focused on Alex. After being teased endlessly by Haley about her tomboyish wardrobe, she reveals her appeal to a certain science set. She rescues Manny and Luke's toy helicopter from a gang of nerds by letting down her hair and sashaying over in her jeans and T-shirt. A dumbfounded Haley asks, "What just happened?"
"You have your fans. I have mine. Some day, your fans are going to work for my fans."
For the first time in a while, there were genuinely touching moments in at the end of Modern Family—Phil asking Jay for advice about a new job venture, and members of the family voicing over what they'd save from a fire. These moments didn't feel forced, so kudos to the cast for knowing when to hold back on the humor—a mark of a great sitcom.
Others Tagged With