Modern Family Review: "Express Christmas" (Episode 3.10)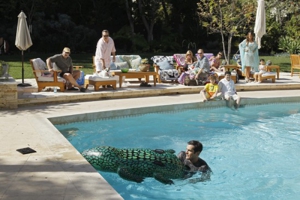 "Express Christmas" opened in an unusual way: The entire family—even toddler Lily and French bulldog Stella—gathered around Gloria's and Jay's pool just lounging in the sun AND getting along. When does that ever happen?
The bliss is short-lived after Mitchell gets a text from his mom saying that she's not coming for Christmas, but instead spending it with her new boyfriend on a cruise. Unfortunately, Claire and Mitchell didn't know about the new boyfriend because neither one of them could get all the way through their mom's multipage Christmas newsletter. (We can't stand those things either.)
When the family realizes that this day, Dec. 16, is the only day they'll all be together until after the holidays, Phil steps up and creates "Express Christmas™" on the fly. The bliss by the pool is shattered, and the Pritchetts and the Dunphys are sent off in unlikely pairings to make Christmas happen that evening.
We liked that family members teamed up for challenges a la The Amazing Race: Gloria and Luke were sent to the attic to battle spiders and musty air to find the special Christmas angel tree topper; Jay and Cam took the task of wrapping presents; Haley and Claire battled the store lines for the rest of the family's gifts; Manny and Phil were in charge of grocery shopping; and Mitchell, Alex and Lily were tasked with buying a Christmas tree.
The new dynamics between characters were refreshing, even if some of the storylines fell flat. We loved watching Alex and Mitchell discover—while shopping for the perfect Christmas tree—that they are cut from the same cloth: in other words, they're both smart and anal. They both insist on a symmetrical Douglas fir; no gaping holes allowed. Now an OCD story would have been great to follow, but then the scene shifts in another direction when Alex accuses the salesman of trying to sell them a heinous pink tree because her uncle is "clearly gay." But whoops, he was pointing to a new shipment of Douglas firs that just pulled up in the truck behind the pink tree. Their tree selection doesn't matter anyway since it gets run over by Gloria and Luke in a madcap series of events in which the tree angel gets run over by another car, too.
We can understand why the Gloria and Luke were paired together because viewers would again be treated to a comic interplay at the expense of Gloria's malapropisms: "Luke" as a stand-in for "look," but there are only so many times that Modern Family can dip into that well. (We don't think anything can top last year's Halloween episode anyway when Gloria thinks she orders "baby cheeses" for Jay but then opens a box of "baby Jesus.")
While we love Cameron and Jay, this pairing was uninspired. Even the sight of Cam in an ugly Christmas sweater couldn't elicit that many laughs. We know that Jay's not an emotional guy, and while Cam might remember all the key moments between him and his father-in-law, we know that Jay certainly doesn't. That skit seemed a little half-baked, and we wished that they had better material to work with.
The pairing of Manny and Phil seems like your anchor/dream team. Phil takes Manny to an alley to meet a guy from Craigslist who'll sell Phil a Joe DiMaggio baseball card for Jay. Manny, already paranoid about being kidnapped, is a little skittish about the situation. He then accidentally tasers Phil. Viewers are going to be divided on this storyline, either loving it or hating it. Though there's absolutely nothing funny about being tasered, bro, we thought Phil's accidental crumpling of the gift, downgrading it from mint condition to trash was pure physical comedy genius by Ty Burrell.
Our favorite pairing of the evening came from a very unexpected duo: Haley and Claire, who's been downright bitchy the past few episodes. The two team up in a Target commercial shopping spree to finish off the Christmas list. Like a boxing coach, Claire tells Haley that she's been training her whole life for this moment. Their teamwork was a welcome change from their usual bickering, and we never know how Haley gets the Target shirt from the male employee, but it was a nice touch leaving that to the audience's imagination. And kudos to Julie Bowen for portraying Claire's best stall techniques at the register while getting the death stare from people in line behind her.
Just as the Express Christmas™ is devolving into such a fiasco that Phil ends up tasering the frozen Cornish game hens, Jay suggests that they celebrate Jewish Christmas instead by all going out for Chinese food.
The family walks out the door, and Jay surprises them all with a white Christmas—he's ordered snow for the family to play in. Once again, we see that he's much more a softy than a Scrooge. A perfect ending for another imperfect Modern Family episode.
Others Tagged With