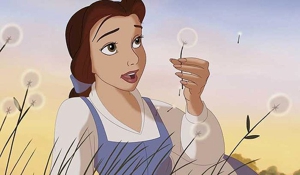 Like The Lion King before it, Disney's Beauty and the Beast gets a big-screen re-release to exploit its 3D conversion for Blu-ray. The first animated film to be nominated for a Best Picture Oscar, Beauty and the Beast, along with The Little Mermaid in 1989 and The Lion King in 1994, composed the last push of classic hand-drawn cartoons before Toy Story tipped the form definitively toward computer animation. The Lion King proved there's still an audience for generation-old animation, grossing nearly $100 million in 3D since reopening in the fall. And like Simba and his friends, Beauty and the Beast is just as enchanting 20 years after its initial release.
As with so many Disney princesses, the role of Beauty (voiced by Paige O'Hara) is to find her prince, but she's got a little feminist kick to her, constantly burying her nose in a book, dreaming of escaping her provincial life and rejecting the advances of the handsome oaf Gaston (Richard White). (How does she know he's not the one for her? "It's not right for a woman to read," he says. "Soon she starts getting ideas. And thinking.") When her father, an idiosyncratic inventor whose character design smacks of Albert Einstein, gets lost in the woods and stumbles upon an enchanted castle, its inhabitant—a horrible Beast (Robby Benson)—takes him prisoner. Belle discovers her father's captivity and offers to take his place.
Her arrival is fortuitous, as time is running out to reverse the curse that has rendered Beast so, well, beastly and his staff a raft of household items, including a candelabra named Lumiere (Jerry Orbach), a mantel clock named Cogsworth (David Ogden Stiers), and a teapot named Mrs. Potts (Angela Lansbury). These charmed servants conspire to tame the Beast so that he'll fall in love with Belle, and she with him, thus breaking the spell that has trapped them in bric-a-brac.
It's thrilling to experience this film's major set pieces on the big screen again, especially the Broadway-infused "Be Our Guest" number by Howard Ashman, whose jaunty lyrics seem as familiar today as they did in 1991, and Alan Menken, whose score won an Academy Award. And the ballroom scene, innovative at the time for compositing hand-drawn characters on a computer-generated backdrop to enable dramatic sweeping camera moves, is positively vertiginous in 3D.
Unfortunately, Beauty and the Beast suffers from some of the same dimensionalization challenges as The Lion King. Although the stained glass-styled prologue (albeit composed of flat images) and the deep stereo opening shot of the forest are sumptuous, digital is an unforgiving medium, and when the characters arrive, they appear jittery and detached from their surroundings. The lack of detail one could get away with on film and home video is distracting here, especially when juxtaposed with Tangled Ever After, the short that precedes Beauty and the Beast on-screen.
The spinoff centers on the slapstick high jinks of Tangled's mute characters, Flynn's horse Maximus and Rapunzel's pet chameleon Pascal. Their little adventure is absolutely delightful but, visually, it doesn't do what follows any favors.
Directors: Gary Trousdale and Kirk Wise
Writer: Linda Woolverton
Starring: Paige O'Hara, Robby Benson, Richard White, Jerry Orbach, David Ogden Stiers and Angela Lansbury
Release Date: Jan. 13, 2012
Others Tagged With