John K. Samson: Provincial
[Anti-Records]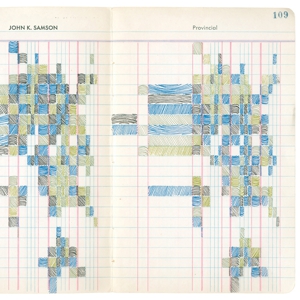 It's hard to say exactly why John K. Samson isn't an instantly recognizable name, why this solo album has to be promoted as "John K. Samson of The Weakerthans." Maybe part of it is that he's just so darn Canadian. Some bands and songwriters from Canada make it easy to forget they're our Northern neighbors; there's nothing particularly American about them, but there's nothing particularly Canadian about them, either.
Samson, on the other hand, takes pride in his homeland, but not the type of pride that makes him the Canadian equivalent of Toby Keith. The centerpiece of the song "One Great City!" for example, on the Weakerthans' under-appreciated 2003 album Reconstruction Site, is the refrain, "I hate Winnipeg." Samson has never shied away from the darkened corners and messy characters inhabiting his land.
He's just as generous with geographical references on Provincial; perhaps even more so, since this album was inspired by roads in Samson's home province of Manitoba. The record takes re-recorded versions of songs from his two most recent solo EPs, plus some new ones. It's entirely different from Samson's stripped-down (and disappointing) 2006 EP, Little Pictures. Provincial is fully formed—far closer to a Weakerthans album—and with some different collaborators to add some new textures, especially chamber arrangements.
On "Highway 1 East," which serves as Provincial's prelude, only brass and woodwinds accompany Samson's instantly recognizable, nasal-ish vocals. Later, string swells gradually drown out the guitar completely on "Grace General." Sparse piano, upright bass and strings alternately plucked and bowed provide the disheveled backing for "The Last And." Samson even cops the melody from a Bach chorale to pair with the story of a lonely young man waking up in front of his frozen computer screen that's repeating the theme from Call of Duty 4.
No matter the instruments behind him, it's those stories and images that stick. "When I Write My Master's Thesis," one of the album's uptempo rockers, could be the anthem of every grad student out there trying to write a thesis and instead spending most of their time worrying about it and finding excuses not to write it. ("Greet me with banners and balloons and my hard drive smashed to pieces/ Nothing left for me to say when I write my master's thesis.")
Another tune is a literal petition to induct former NHL player Reggie Leach, "The Riverton Rifle," into the Hockey Hall of Fame. You can read the lyrics, word for word, from the actual petition on ipetitions.com. (This, too, is something only a Canadian would do.)
"Heart of the Continent," though, is probably the best example of Samson's visceral melancholy. It's a companion piece, of sorts, to "One Great City!"; that song's title was the city of Winnipeg's previous slogan, and "Heart of the Continent" is the new one. On it, and throughout Provincial, Samson doesn't paint vague feelings with pastel watercolors. He revels in the details, placing you in front of the "gleaming knife display" at the Army surplus store, standing before an unresponsive automatic door ("just another door that won't open for me anymore").
Samson gives stage time to seemingly mundane moments. Lightning doesn't flash. It tattoos the sky: "Inky bruises punched into the sky by bolts of light, and then leak across the body of tonight." Brick, drywall, billboards and other typically blurry, drive-by images come sharply into focus before Samson zooms out and sums up the entire "Heart of the Continent" backdrop in two words: "crumpled dark."
These roads and highways, these unflinching looks at despair bubbling just underneath the surface: It's all proof that Samson loves his country not in spite of its brokenness, but because of it.
Others Tagged With