Modern Family Review: "Lifetime Supply" (Episode 3.11)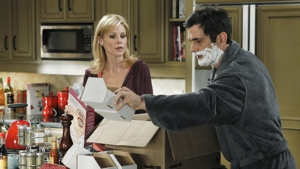 Even during its winter break, Modern Family was busy off the airwaves—collecting accolades. The ABC show earned Golden Globe nominations for Best Television Series, and for Best Supporting Actor (Eric Stonestreet) and Actress (Sofia Vergara). The Screen Actors Guild Awards also honored the cast with nominations, including Outstanding Performance by an Ensemble in a Comedy Series and individual nods to Ty Burrell, Eric Stonestreet, Julie Bowen and Sofia Vergara.
There's no doubt about the talent of the Modern Family cast, but we were curious how the show would start the new year after a couple of less-than-stellar holiday episodes.
Returning this week with "Lifetime Supply," viewers find Phil at the doctor's for a physical. The doctor tells Phil that he'll call if there's anything wrong, and we know exactly what will happen next. Because it's Phil Dunphy. The guy who responds to the doctor's request to bend over with: "Dim the lights, crank up the Norah Jones, and let's get this over with."
Unfortunately, that was probably Phil's best line of the night. Throughout the rest of the episode, we watch Phil as he prepares for the inevitable, since he missed the doctor's call and can't reach him. To top it all off, he's run out of a lifetime supply of razor blades won on a game show 15 years earlier, so he believes that's another omen of his impending doom. His actions were a bit predictable, but Burrell made the most with what he had.
In another storyline, Mitchell and Cameron return home from a dinner where Mitchell is honored with the "Oscar of the environmental law community." He puts the award on the mantle, only to find that Cam has dug out one of his old trophies—a fishing award from his teen years—to showcase, too. Mitchell get a little petty, miffed at the one-upmanship, at one point telling Cam: "My award was given to me by my peers…yours was given to you on a pier."
Mitchell eventually realizes the error of his ways, and decides to dig out the rest of Cam's trophies for a display, but he drops the box just as Cam walks in. The chemistry between Stonestreet and Jesse Tyler Ferguson is just fun to watch. They banter like an old married couple, and we'd love to see more of that in a substantial story—as long as there's a point. There wasn't a resolution to the trophy saga, so it leaves us wondering what all the fuss was about.
In the third major story of the episode, Jay and Manny are preparing for a golf outing when Manny comes downstairs wearing his golf outfit to make sure there's no overlap in wardrobe the following day. The look he was going for? "Matt Damon in Bagger Vance." That's the Manny we've come to know and love: The old soul trapped inside a preteen boy's body.
The golf day is canceled when Manny's smooth-talking dad Javier (played by special guest Benjamin Bratt) drops in and insists on taking Manny to the track. He tells his son that golf is for "old men and women who like women." Gloria insists that Jay tag along since she cannot go (she's tutoring Haley in Spanish) because the last time Javier dropped by he took Manny to the petting zoo—a strip joint. "A real petting zoo would have been cleaner," Gloria tells the camera.
At the track Manny is caught between his two dads, each trying to give the boy life lessons through horseracing. Unfortunately, Jay comes out on the short end of the stick. The scenes at the track were more bittersweet than laugh-out-loud funny, giving Modern Family an emotional edge we rarely see.
Modern Family is a good sitcom with a great cast—the laughs come fast and furious. The accolades are deserved, but at some point we wish that the storylines would entice us to come back as much as the one-liners and throwaway jokes.
Others Tagged With