The Little Willies: For The Good Times
[Milking Bull]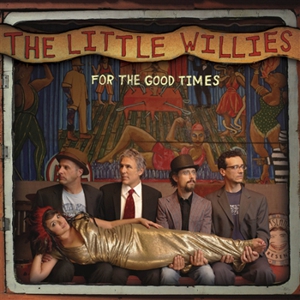 Voices tangled, The Little Willies' Norah Jones and Richard Julian lean into a demi-lurching chorus of Ralph Stanley's "I Worship You" to open For The Good Times, the follow-up to their 2006 self-titled debut. Just when the drunken kitsch seems to swell up, the fingers fly, Jones offers a plucky lament about her worship not being enough—and it's obvious that these friends who got together in 2003 to celebrate classic Wurlitzer country have lost none of their reverence for tear-in-your-beer songs.
And the Willies—bassist Lee Alexander, guitarist Jim Campilongo, pianist/vocalist Jones, guitarist/vocalist Richard Julian and drummer Dan Rieser—have a real affinity for the songs about life's wild side and its consequences. Drawing on Johnny Cash, Loretta Lynn, Dolly Parton, Lefty Frizzell and Kris Kristofferson, this is the American beer-joint songbook proffered with vitality rather than reverent, if embalmed, precision.
Country played right is nuanced, capable of several emotions in a single note. The Little Willies understand how complicated simple songs can be. The supple threat of Loretta Lynn's "Fist City" finds Jones sounding as plush as she is menacing, while Julian's understated ache on "Permanently Lonely" underscores Willie Nelson's wry dismissal of "I'll be alright in a little while, but you'll be permanently lonely."
There is a sense of delicious foreboding to "Diesel Smoke, Dangerous Curves" that signals "trouble dead ahead," with a flickering guitar part and accelerating rhythm. The chicka-boom Tennessee Two beat drives Johnny Cash's "Wide Open Road" that's a call to run with a chicken-scratch guitar solo and barrelhouse piano, while Lefty Frizzell's frank "If You've Got The Money, Honey, I Got The Time" is a wide-open celebration of Western swing and big living on somebody else's dime.
Anything but hick music, The Little Willies bring restraint to their playing and offer elegance to what could easily be burlesqued into some kind of Li'l Abner caricature. Instead, there's the sultry ache of "Lovesick Blues," sailing perfect two-part harmony over brushes on drums, a creeping upright bassline and enough guitar to conjure a Sinatra-perfect rendition.
Here the best of vintage country mingles with the grace of true fans. That love tempers "Jolene," Dolly Parton's plea to a harlot bent on the singer's man in a way that adds a sultriness instead of a desperation. The suggestion that the singer is no shrinking wallflower speaks to the depth of these interpretations.
For fans of what country was, For The Good Times could well be a hope chest for what could yet again be.
Others Tagged With