Up All Night Review: "New Year's Eve" (Episode 1.12)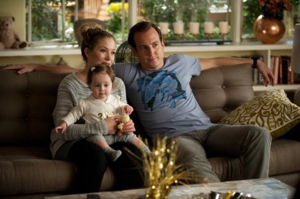 First of all, congratulations are in order to all at Up All Night. The show premiered this week in its new timeslot: the coveted last comedy of the Thursday night block. Even though the show wasn't awarded a Golden Globe nomination and was edged out by an adorable, one-note freshman hit, Up All Night is a slow-burning comedy for adults.
"New Year's Eve" starts with flashes of past celebrations: when Chris and Reagan first meet, their first as a married couple and last year when Reagan was pregnant with Amy. It all looked like good fun, but then this year the couple realized that having a baby means no more getting wild and counting down until the New Year.
Reagan invites Ava and Missy, along with their boyfriends (Jason Lee returns as Ava's beau Kevin), to a "low key" game night instead of going out to party. Needless to say, Chris is worried she'll take it too far, and she promises that she won't "as long as no one is a puss."
It was risky to release a New Year's Eve-themed episode two weeks after the holiday, but in the grand scheme of things, its original airdate won't matter in syndication, and it brought us back to that glorious night a fortnight ago.
One character I wanted to see more of was Missy, who started the series as a reoccurring character and was bumped up to a series regular a few episodes back. Here, her neurotic personality shines through and while she comes off as a whiny, little girl, she reminds me of early Ava, but less obnoxious. Her relationship was a stepping stone for the complexity of the main characters' ones.
Ava seems embarrassed by Kevin, who is more of a Regular Joe than Ava is used to. His insecurities aren't overexposed, but it does allow for the obvious conflict between the two to become more prevalent. It was only a matter of time before the classy, luxurious lifestyle that Ava lives and Kevin's everyman life finally clashed.
What works even better, as Chris puts it, is that his own relationship at the moment "drops parallel" to theirs. It's great to see that everything isn't so perfect between Chris and Reagan and that this was a perfect boiling point. It boils to the point where they begin a list of everything that annoys them about the other, which proves comical and made me realize I need to stop saying "totes" and that "totally" or "yes" will do perfectly fine.
In the end, it is a perfect transition to the second half of the series, which is already a complete departure from where it started a dozen episodes ago. Ava has grown into a loveable third wheel to a completely strong duo in Chris and Reagan. I said this was one of the most solid new shows out there when it first started, and it has gone on to prove itself worthy of the acclaim.
Others Tagged With