Estelle: All of Me
[Warner Music/Atlantic]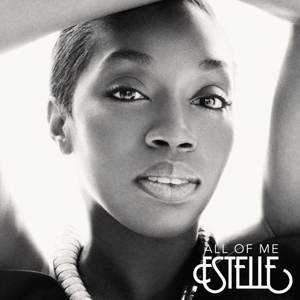 Rihanna's success might give some people pause at the idea that any of those single-named R&B hitstresses could attain the career longevity that Amerie and Ciara could not. But it took Rihanna an absurd amount of time to become a household name—namely, six albums in seven years, which despite plenty of hits (especially "We Found Love," "Umbrella," "SOS" and the underrated "Disturbia") likely took a backseat to her unfortunate history of abuse at her Grammy-winning ex's hands to get there. Amerie, Ciara and Estelle barely have six albums between them. Despite having their names on "1 Thing," "Like a Boy" and "American Boy" respectively, three of the greatest R&B singles of the last decade, that guarantees no shot they'll get to record as much as Rihanna much less recoup.
Doubling the unfairness is the critical neglect of these female R&B crossovers' albums. When reviewed at all, they're usually polite, but not taken as seriously as R. Kelly or The-Dream's records, where words like "genius" get thrown around. The girls are seen as producers' pets and breaking out of the cycle to grow much of a personality becomes a catch-22. Critics loved Estelle's flavorful Kanye duet, which had plenty of Dr. Buzzard's Original Savannah Band in it, but the fine album that went with it got a bit discarded in the process. Four years later she's hard-pressed for one of those reinventions that Bon Iver didn't require after his Kanye duet. Oh well.
Shine, quoted from Screamin' Jay Hawkins' "I Put a Spell on You" and George Michael's "Faith" and maintained somewhat of a sonic signature, a tuneful mélange of new jack swing, dustier hip-hop than is currently in vogue and some Kardinal Offishall-stamped ragga. The new All of Me is almost as good, though it indeed discards the album before it, trading in synths and lamer guests who have even less to do with her than Kanye—what could this Brit possibly have in common with Chris Brown or Rick Ross? The pursuit of money I suppose.
Two things stand in Estelle's way though. There's no obvious standout here a la "American Boy," though we'll let her label deal with that. And then she occasionally dips lyrically into embarrassingly awkward one-hit wonderness, like an awkward sequence about hashtags. And the lead track contains this confounding couplet: "I'ma say whatever I like and that's me/ So you can take your opinions and eat cheese"—what? The best song here is "Back to Love" a feel-good anthem with juicy disco strings and a fortunate resemblance to Taylor Swift's great melody pileup "The Story of Us." But even that shares an eerily similar title with Shine's "Back in Love," betraying the lack of self-awareness that makes Serious Music Fans consider singers like Estelle to be ciphers.
The thing is, a consistent-not-masterful album like All of Me would still do you some good to hear; don't miss "Back to Love" or the excellent, Rhodes-driven "Love the Way We Used To" or even "International (Serious)," which even finds a hooky use for its yucky guest Chris Brown. All of Me is certainly more listenable those last R. Kelly or The-Dream albums, not to mention whatever pretty-good indie-rock record you may be currently giving more ear time than is deserved.
Others Tagged With