Big K.R.I.T.: 4Eva N a Day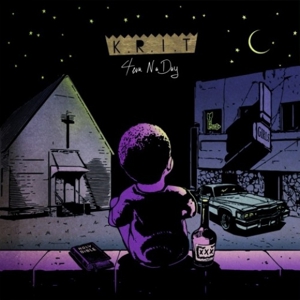 There is one perfect, frozen moment on Big K.R.I.T.'s new mixtape that will make your heart sing. The Mississippi MC, so crestfallen for most of 4Eva N a Day, finds renewed purpose in a phone conversation with his dad. He spills his deepest-felt resentments to K.R.I.T. Sr. on "Handwriting," one of 14 songs that smash whatever ceiling was put in bounds after the twin triumphs of Big K.R.I.T. Wuz Here and Return of 4 Eva.
"Handwriting" is a disarmingly mundane peek into K.R.I.T.'s worldview. Now that the flashy likes of T.I. and Lil Wayne have crested in popularity, a new crop of Southern rappers is taking root: Bible Belt disciples raised on ham hocks and Tony Joe White. The composition of 4Eva N a Day is defined by his faith. There's an earthy gospel quality to tracks like "Down & Out," which swipes the opening chord from OutKast's hit "Southernplayalisticadillacmuzik."
That's part of the beauty of 4Eva N Day. K.R.I.T. lends a 2012 makeover to classic albums that have long since retired to the history bins. The ironically titled "Wake Up" emerges in a sedated blear, exporting a flute sample from the slower, softer end of vintage Three 6 Mafia (check 1995's "Da Summa"). "Me and My Old School" pays a syrupy homage to defunct Texas duo UGK.
While there's an historical precedent for what K.R.I.T. does and 4Eva N a Day is mostly just the sum of its influences, one can't help but marvel at the tape's economy and endless listenability. A noirish jazz sound colors both "Boobie Miles" and "Country Rap Tunes," where K.R.I.T. speaks of "slingin' them Caddy doors," animating passé lyrics with his mellow, marbly drawl.
One oddity that sticks out here is the rapper's distaste for music biz execs. "Handwriting" fits in a wry reference to his first and only charting single: "They say I haven't had play since 'Country Shit.'" K.R.I.T. will never be much more than a boutique star because he refuses to bend to the demands of the marketplace. Call him dogmatic and inaccessible, but he broadcasts a feeling of frustration and voicelessness that is uniquely Southern. The ruins of the old South haunt 4Eva N a Day like a malevolent, beautiful ghost.
Others Tagged With