Rocket Juice and the Moon: Rocket Juice and the Moon
[Honest Jon's]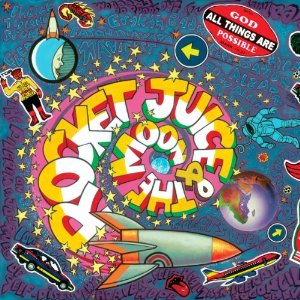 On one hand, we all should have seen this shit coming.
Damon Albarn, veteran songwriter-chameleon behind Blur's classic Britpop stylings and the electro-dub stew of Gorillaz, isn't exactly a stranger to off-beat projects or random collaborations: The short-lived The Good, The Bad, & The Queen featured the talents of—if you recall—former Clash bassist Paul Simonon and Fela Kuti drummer Tony Allen, and he recently finished a, yes, opera, the upcoming Dr. Dee. It's also no secret that the guy has a deep appreciation for African music: In 2002, he recorded Mali Music, a joint effort with various Malian musicians, and just last year, he holed up in a Congo studio with local musicians and producers from DRC Music (Democratic Republic of the Congo Music), eventually releasing the well-received Kinshasa One Two.
But the funky, off-the-cuff, West African-leaning grab-bag that is Rocket Juice and the Moon (featuring, at its core, Albarn, Tony Allen, and Red Hot Chili Peppers bassist Flea) still feels an awful lot like a head-scratcher, despite its easy-to-trace roots. For an exhausting 18 tracks and 53 minutes, the unlikely power psych-funk trio effortlessly churn out the sonic goods. With Flea's delicious bass runs and Allen's sturdy, hypnotic time-keeping, these are undoubtedly some of the rawest, tastiest live-band grooves this side of a Funkadelic LP—but unfortunately, the endlessly repetitive and overlong Rocket Juice rarely adds up to anything more than jammy goodness, despite of the project's immense promise.
True, part of Rocket Juice's appeal lies in its scattered, unfocused, cosmic exploratory jammy-ness. It's what makes a track like the synth-dominated "Extinguished" feel so alive, even at its silliest. But then again, the project's lack of focus single-handedly ruins its shelf-life. It's hard to picture anybody pulling out this album in two years and blasting, say, the minute-long dub drone "Night Watch" in their SUV. Some tracks, like the brief-yet-effortlessly-funky "Forward Sweep," awkwardly fade out in order to disguise their sketch-like sensibilities. Others, like the spacey synth doodle "Worries," are all letters and no punctuation, simply stopping the grooves mid-sentence, as if no one even knew where the fuck they were going to begin with. It also doesn't help that most of Rocket Juice lands in the same small handful of tempos and keys: As a result, poor Flea can't help but thumb-pick nearly the same exact bassline on a couple (or six) tracks.
Since so much of Rocket Juice feels half-assed and random, it's no surprise that tracks with choruses and lyrics make the strongest impressions. Musical hermit Erykah Badu is outstanding on album high point "Hey Shooter," lending a much-needed injection of sensuality and color; The tense, mesmerizing "Follow-Fashion" is built on circular guitar patterns, lazily sighed horns from The Hypnotic Brass Ensemble, and the haunting croon of Malian vocalist Fatoumata Diawara.
Based on highlights like these, Rocket Juice could have (or maybe should have) been a pretty special release. Trim away the fat, and you're left with a strong nine-or-ten-track album, or (better yet) an absolutely stellar EP. The bloat, the sprawl, the messiness: For Albarn, these aren't detriments; they're trademarks. You can't blame him for following his muse (You only live once, right?), even if the results aren't always as magical in real life as they are on paper.
Others Tagged With