Amadou & Mariam: Folila
[Nonesuch]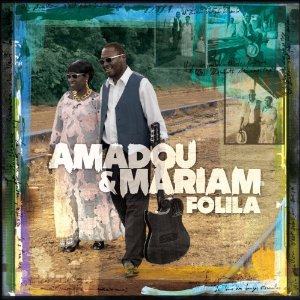 For world music fans, a new album from Mali's Amadou & Mariam is always something to get excited about. For the last decade or so, the blind husband and wife duo have been releasing music that embraces the sounds of their desert homeland— made familiar by Tinariwen and Ali Farka Touré—while at the same time incorporating aspects of many other genres including soul, techno, dub and hard rock. Their newest LP, Folila, is Amadou & Mariam's most accessible album to date and features guests such as members of TV On The Radio, Theophilus London and Yeah Yeah Yeahs guitarist Nick Zinner. Hopefully, the attention that such guests will attract will have the effect of introducing a much larger audience to the duo's unfailingly engaging and appealing music.
Record companies have used the tactic of pairing popular Western musicians with third world artists for decades now—with mixed results. In the '70s, Mick Jagger and Keith Richards appeared with Peter Tosh on his breakthrough single "Walk and Don't Look Back" to great effect, while efforts to pair artists like Stevie Wonder with Nigeria's King Sunny Ade drew less attention. At the end of the day, no matter how many guests are used to prop up an emerging group's profile, the artists must ultimately be able to command listeners' attention on their own for their careers to gain momentum and longevity. In this sense, Amadou & Mariam are on firm ground. In 2004, they collaborated with Latin superstar Manu Chao to produce Dimanche a Bamako, their breakthrough album that led them to work with Damon Albarn and others on 2009's Welcome to Mali. In both cases, guest artists and producers worked hard to complement Amadou & Mariam's existing styles of music rather than attempting any kind of musical crossover or blending of sounds.
This is also the case with the tracks on Folila. Amadou's crunching guitar style is immediately recognizable as his riffs recall the bite of Jimi Hendrix, the reverb loops of U2's The Edge as well as the loping grooves favored by other bands in the region such as fellow Malians Tinariwen. Mariam's vocals remain untempered by current fashion as she ululates like a sufi in a trance one minute and wails like Aretha Franklin with her dress on fire the next. The best that any of the guests can muster is to follow along, and for the most part they do it exceptionally well. On the opening track, "Dougou Badia," Nick Zinner and TV On The Radio fall right into Amadou's feedback-drenched groove while Santigold keeps right up with Mariam's soaring vocals. Similarly, on other cuts such as "Wily Kataso" and "Nebe Miri," TV On The Radio and Theophilus London do little more than tastefully complement arrangements and grooves that would exist with or without their participation.
In the end, there is nothing distracting about the participation of any of the musical guests that Amadou & Mariam have attracted this time out. They neither add nor detract from the album. Each contributor's approach is respectful and professional as they obviously sought to fit into the duo's fully formed musical concepts rather than to try and shape the proceedings to reflect their own musical visions. For those who have never heard Amadou & Mariam's music, Folila may be a perfect place to start exploring. Musical purists may grumble that the only reason listeners first come to this album is because of the many guests that appear on it. But, really, who cares? Amadou & Mariam's music is strong enough to stand on its own, and it's a fair bet that people who start with Folila won't stop listening until they've heard all of their albums.
Others Tagged With