Of Monsters and Men: My Head is an Animal
[Universal]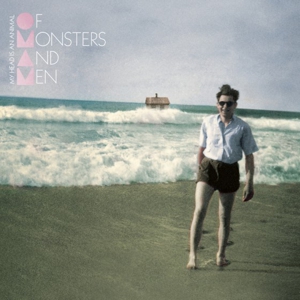 It's about a six-hour flight from the East Coast of the United States to Reykjavík, Iceland, the hometown of up and coming sextet Of Monsters and Men. And the band's debut album is like that moment during such a transatlantic flight where travelers realize that the journey is just a little bit too long, but ultimately worthwhile.
Formed in Reykjavík in 2009 out of the remnants of individual members' former solo projects, Of Monsters and Men has been a local favorite in their home country since winning a nationwide battle of the bands—Músiktilraunir—in 2010. The next year, the group released its first album, My Head is an Animal, in its home country, where it quickly topped national charts. The American market proved slower to crack, as it took nearly a full year for Universal to sign them and release an EP entitled Into the Woods in 2011.
My Head is an Animal, a 12-track sonic and lyrical tour of the frigid island country, includes all four songs included on Into the Woods. The EP, which contained "From Finner," "Six Weeks," "Love Love Love" and the heralded "Little Talks," served as an excellent introduction to the Icelandic band; however, when those songs are placed in the context of a full album, they prove that Of Monsters and Men is at its best when all six instrumental and singing voices are heard.
On the LP, Nanna Bryndís and Ragnar "Raggi" Þórhallsson's harmonies and alternating vocal leads shine in tunes like opener "Dirty Paws" and "Mountain Sound." The instrumentation, which also features melodica, glockenspiel, accordion and horn flourishes (as exemplified in "Little Talks" and the outro/reprise of "Lakehouse") keep the band from genre pigeonholes. And the band members' excitement—the unbridled joy of just playing together—that's felt on each up-tempo song is simply contagious.
As a whole, though, My Head is an Animal just feels slightly too drawn out. Slower songs and ballads like "King and Lionheart," Sloom" and the closer, "Yellow Light" detract from the completeness of the nearly hour-long album. Even with a few skipable tracks, though, Of Monsters and Men bring an Icelandic exoticism and captivating energy to U.S. audiences on My Head is an Animal.
Others Tagged With