The 50 States Project: 500+ Bands on the Rise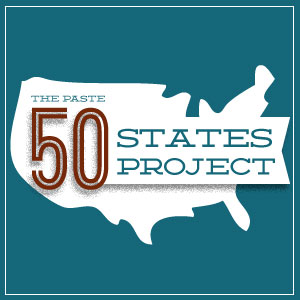 Sufjan Stevens might have given up before he left the Midwest, but we're not stopping until we cover all of America, from Florida to Alaska, Maine to Hawaii. Paste is scouring the country for great new bands. If you have a suggestion for your home state, send a link to 50states@pastemagazine.com. And check back here to see when your state gets added.
We're 28 states in so far, and we'll be adding a new one every couple weeks. Click on a state name to read more about each band and listen to a track.
Alabama
Banditos
Dead Fingers
Dillon Hodges
Doc Dailey & Magnolia Devil
Duquette Johnston
El Cantador
Fire Mountain
The Great Book of John
Lee Baines & The Glory Fires
Nell Robinson
The Pollies
St. Paul and the Broken Bones
Alaska
Animal Eyes
Feeding Frenzy
Historian
Marian Call
Matt Hopper
Meg Mackey
The Sweeteners
The We Shared Milk
Young Fangs
Arizona
Black Carl
Dry River Yacht Club
Future Loves Past
Gospel Claws
Roar
Run Boy Run
Snake! Snake! Snakes!
Stephen Steinbrink & French Quarter
What Laura Says
Yellow Minute
Arkansas
Adam Faucett
Amasa Hines
Bonnie Montgomery
Booyah! Dad
Brother Andy and His Big Damn Mouth
The Coasts
Damn Arkansan
Don't Stop Please
The Holy Shakes
Messy Sparkles
Pagiins
Teenagers
California
Bleached
Branches
California
Cayukas
FIDLAR
Haim
Hit-Boy
Jessica Pratt
PAPA
Superhumanoids
The Lovely Bad Things
The Milk Carton Kids
Weekend
Florida
Aircraft
Day Joy
Ex-Breathers
Half Undressed
Hundred Waters
Levek
Mystery Date
Set and Setting
Wavefunctions
Willie Evans Jr.
Illinois
Big Science
Common Loon
The Congregation
Elephant Gun
Elsinore
Exit Ghost
Grandkids
Hollows
Mazes
Shy Technology
Indiana
Apache Dropout
Bonesetters
Faux Paw
husband&wife
Laura K Balke
Rodeo Ruby Love
The Kemps
The Leonard Washingtons
Thee Open Sex
Urbanites
Kentucky
Houndmouth
Jalin Roze
Matt Duncan
Natives
Nerves Junior
Oh My Me
Silver Tongues
The Fanged Robot
The Pass
Whistle Peak
Louisiana
Au Ras Au Ras
Brass Bed
Caddywhompus
Coyotes
England in 1819
Gashcat
Gold and the Rush
Rareluth
Royal Teeth
Sun Hotel
The Breton Sound
Vagabond Swing
Maryland
Ed Schraders Music Beat
Ghost Hotel
Holy Ghost Party
Julia Brown
Raindeer
Secret Mountains
Soft Cat
Sun Club
The Sterling Sisters
Us and Us Only
Massachusetts
The Blackbaord Nails
Camden
Cuffs
Magic Magic
Mean Creek
Movers & Shakers
The New Highway Hymnal
Quilt
The Red Heroine
Viva Viva
Michigan
Absofacto
Bars of Gold
Chris Bathgate
The Crane Wives
Dale Earnhardt Jr. Jr.
Danny Brown
De La Montaña
The Dirtbombs
Frontier Ruckus
Lightning Love
Little Island Lake
The Soil and the Sun
Minnesota
Caroline Smith & The Good Night Sleeps
Chastity Brown
Communist Daughter
El Guante
Haley Bonar
Joey Ryan & The Inks
Lucy Michelle and The Velvet Lapelles
Night Moves
Prissy Clerks
Rogue Valley
Sleep Study
We Are the Willows
Mississippi
Bass Drum of Death
Cedric Burnside
The Como Mamas
Dead Gaze
The Jag
The Jarheads
John Murray
Rosco Bandana
Sanders Bohlke
Spacewolf
The Weeks
Young Buffalo
Missouri
Bo and the Locomotive
Bob Reuter's Alley Ghost
Capybara
Dots Not Feathers
The Grisly Hand
O Giant Man
The Hooten Hallers
Old Lights
Sleepy Kitty
Water Liars
New Jersey
Apparus
Cakes Da Killer
The Everymen
The Front Bottoms
Full of Fancy
Honeydrum
Howth
Julian Lynch
Memory Tapes
Spook Houses
The Ugly Club
Waking Lights
New York
Alexandra Stewart
Brothers
Diiv
Glass Ghost
Hunters
Lady Lamb the Bee Keeper
The Last Royals
Lucius
Rush Midnight
Skaters
North Carolina
Andy the Door Bum
Deniro Farrar
Diali Cissokho & Kairaba
Floating action
Hiss Golden Messenger
Mount Moriah
Naked Gods
Paint Fumes
Red Collar
Some Army
Wood Ear
Zack Mexico
Ohio
Bad Veins
The Black Swans
Cloud Nothings
The Lighthouse and the Whaler
Nick Tolford and Company
Old Hundred
Phantods
Pomegranates
Southeast Engine
Walk the Moon
Oregon
Adventure Galley
Ages and Ages
And And And
Lost Lander
Onuinu
Pure Bathing Culture
Radiation City
Sean Flinn and the Royal We
The River Empires
Wild Ones
Pennsylvania
Chill Moody
City Rain
Dana Alexandra
Donora
DRGN KING
New Shouts
Nicos Gun
Purling Hiss
Strand of Oaks
Toy Soldiers
Work Drugs
South Carolina
Company
Gremlins
Milton Hall
Modern Man
Pan
Pussy Wizard
Ramphastos
The Restoration
Run Dan Run
Shovels & Rope
Sunshone Still
Troth
South Dakota
Amos Slade
Avian Sunrise
The Kickback
Mystery Pills
Paradise Fears
Roman Ships
Soul Crate
The Tinder Box
Typical Hunks
Wumpus
Tennessee
The Apache Relay
The Black Cadillacs
Cherub
Cities Aviv
Dirty Guv'nahs
Glossary
The Kingston Springs
The Memphis Dawls
Moon Taxi
Plainclothes Tracy
Star & Micey
Vinyl Thief
Washington
Cathedral Pearls
The Lonleyly Forest
Macklemore
My Goodness
Night Beats
OC Notes
Pickwick
Shelby Earl
THEESatisfaction
Unnatural Helpers
The Young Elvis
Yuni in Taxco
West Virginia
AC30
Aristotle Jones & The Like Minds
The Boatmen
The Demon Beat
Fox Japan
Goodwolf
Qiet
Sasha Colette and the Magnolias
Sleepwalker
Sly Roosevelt
Wisconsin
Blessed Feathers
Cory Chisel
Field Report
Jaill
Juniper Tar
Phox
The Daredevil Christopher Wright
Trapper Schlepp and the Shades
Vic and Gab
Volcano Choir
Others Tagged With