Daryl Wein & Zoe Lister Jones: Independent Versus Studio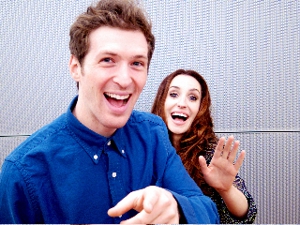 Daryl Wein and Zoe Lister Jones, the talented, young and spirited duo behind the micro-budget DIY (Do-It-Yourself) indie Breaking Upwards, have come a long way since their hilariously absurd pleas for distribution and shameless self-promotion by way of reggae and rap videos onto Vimeo. The real-life couple's personalities perfectly compliment each other, both professionally and personally, equating in balanced films that place a unique scope on modern relationships—and yield results that are anything but your average romantic comedy. This proves the case for Lola Versus, the first stab by Wein (who co-writes and directs the film) and Lister Jones' (who co-writes and acts in the film) at a studio film (Fox Searchlight). Lola Versus stars Greta Gerwig as the title dame who embarks on a quest to find herself after being unexpectedly tossed back into the bizarre dating world of Manhattan when her fiancé calls off their wedding.
The premise for Lola Versus was born amid Lister Jones' re-hashing of personal tales of woe during her year as a semi-single woman (Wein and Lister Jones embarked on a year-long open relationship, which they loosely exhibited in 2009's Breaking Upwards). "My year as a single woman was pretty brutal, I have to say!" Lister Jones laughs. "We thought it would be a good premise for a story, and we had a lot of single female friends who were struggling with this. It sort of felt like an epidemic: why are all these awesome women not finding the right men and being tortured in their search for the right man?" she says. "There were so many lunches I had with my girlfriends, that Daryl would be at too, and they had war stories. They were hysterically funny and you can't help but laugh because [the stories] are so out there that it's hard to believe they're true."
After parting with her fiancé, Lola has some of these said outlandish (and hilarious) interactions with the opposite sex. With Wein and Lister Jones' merging of these all-to-real happenings with quips geared toward their generation, it gives the film for a genuine flavor. "We're trying to be subtle and trying to be a little bit more nuanced" says Wein, the film's director.
The amusing one-liners typically spill from Alice's mouth, Lola's best friend played by Zoe Lister Jones. Her character's dry sarcasm is close to that of Lister Jones' own wit, which in turn suggests that perhaps this Whitney actress had much to do with the hilarity found throughout Lola.
"As writers, we were trying to have references and a feeling of authenticity for our generation that we can identify with, so it is not broad or what executives may feel people our age would like," Lister Jones explains, with a nod toward a comical Saved By the Bell reference her character Alice bellows during one scene in particular. "Jessie Spano went down on those caffeine pills, and it freaked me out! It freaked a lot of us out. Hardcore. Now look at what the kids are doing, if only they were doing caffeine pills!"
Similar to what occurred to the Duplass Brothers with Cyrus, Fox Searchlight scooped up the Wein and Lister Jones team and took them under their wing, offering them the opportunity to shoot under the guide of a studio. Going from a 15K budget to a studio film (albeit one still deemed low-budget) is a drastically different shooting experience, providing Wein a dream opportunity. "We shot on film! That was the biggest liberty, and we screened it on film last night, too," Wein says in reference to their Tribeca Film Festival premiere. "For me, it's a humungous leap forward and victory as a filmmaker to be able to shoot on 35mm and to be able to have the budget to do that," he says. "Especially right now—we're at this critical turning point where film is dying and studios want to push film out because they think digital is cheap. It still doesn't look as good as film. There's something alive about the 24 frames a second and seeing the flutter and little hairs, it makes it feel unique whereas everything is so polished in the digital world."
When independent filmmakers must adhere to a studio's management, at times the magic can fade and genuineness is sacrificed. "Even though we did it within the system and had all these people around us, I feel like we're really trying to preserve our independent sensibility, style and soul," Lister Jones explains. "It's still there, which is a testament to how great our collaborators were in trusting us and believing in our ambition."
Lola Versus retains the filmmakers' spirit and manages to re-incorporate the key themes that were depicted in Breaking Upwards, such as co-dependency and the absence of a "villain" to force the story along. "That was something that we did work really hard on in this film and also in Breaking Upwards," Lister Jones says. "All of the characters' choices are somehow relatable at one point or another. Everyone's making mistakes, so there's not one person who can be deemed evil. In Lola Versus, that was a huge challenge with Luke (Joel Kinnaman, Lola's ex-fiancé). He devastates our leading lady, so your first instinct is to want to side with her. It was important to make him a character that was deeper and that you might want to root for her to be with."
After experiencing an inundation of exceptional no-budget independent films helmed under the guise of DIY and mumblecore this past decade, it is an obvious next step for these filmmakers to turn to studios when wooed by a substantial budget. Given their roots, Daryl Wein and Zoe Lister Jones have managed to preserve the voice that made them a success in the underground world and re-present it to the masses. With their synced sensibility, Wein and Lister Jones are a team to look out for. Their dynamic writing style suggests they've found some equation for success, but they deny there's any method to their madness.
"We should come up with something to tell people: 'We only write in bathing suits while sitting in tanning beds.'" Lister Jones says. "Although, we would both look a lot healthier than we look now."