The Good Wife Review: "I Fought the Law" (Episode 4.01)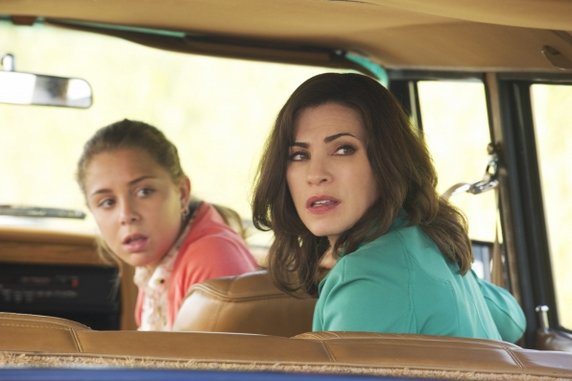 After having one of the most stressful season finales last May, The Good Wife kicked off its fourth season precisely where it left viewers: Kalinda (Archie Panjabi), in her empty apartment, staring at the front door with a gun in her hand.
The ominous presence at the other side of the door turned out to be her husband's henchman. "He misses you," the lackey reports. Kalinda quickly takes a sledge hammer to his hand and then answers the call from her husband. "It's over. I've moved on. You should too," she tells him. It's a credit to Panjabi's acting that I totally believed Kalinda could so easily take a man twice her size.
The series then answered the show's second-biggest mystery: Alicia (Julianna Margulies) did get a much better hairstyle over the summer. Our great hair nightmare is over. Goodbye helmet hair, we will not miss you.
Alicia's son Zach (Graham Phillips) is pulled over by an overzealous cop (Matthew Del Negro, who I'll always remember as Brian Cammarata from The Sopranos) for a driving violation. Officer Robb has his dog sniff the car and accuses Zach (Graham Phillips) of having marijuana shake in the car. It's at this point that I want to step in and tell Officer Robb that it's in his best interest not to cross Alicia.
Meanwhile, back at the firm, we finally learn the depths of Lockhart/Gardner's financial troubles. Turns out they are $60 million in debt and are forced to file for bankruptcy. The judge puts the firm under the care of court appointed trustee Clarke Hayden (Nathan Lane). Clarke promptly tries to play Diane (Christine Baranski) and Will (Josh Charles) against each other before informing them they will need to cut 30 percent of their staff. I've been wondering if The Good Wife could do for Nathan Lane's career what it did for Alan Cumming's, but Lane's character introduction was rather uneventful.
The episode also featured Kristin Chenoweth as political reporter Peggy Byrne. Chenoweth's time on The Good Wife was cut short when she was injured on the set and unable to return to work. She will be missed. Her scene with Margulies was excellent. Peggy accuses Alicia of setting women back to the 1950s by attempting to reconcile with her husband. "This isn't about women or the '50s. This is about me," Alicia responds.
Eli (Alan Cumming) does his best Eli trying to spin the story that Alicia and Peter (Chris Noth) are working on reconciliation and that Peter is a changed man. Perhaps he would feel better if he knew he would have a much more difficult time defending Mr. Big's behavior.
Kalinda's husband Nick (Marc Warren) shows up at the firm as a client. When Kalinda spots him and follows him into the parking lot, they proceed to beat each other up. By the time we see the duo again, they are in bed. I'm concerned about the direction of this storyline. Kalinda is surrounded by inherent mystery, and her character exudes a palpable sexuality. But do I want to see her in a dysfunctional relationship that mixes violence with passion? No, I do not.
Zach saves the day by posting a YouTube video of Officer Robb's many illegal arrests. One of the great aspects about The Good Wife is that the children have never been cookie-cutter TV characters. Their stories are as rich and complex as their adult counterparts. And the episode serves as another reminder that Alicia prioritizes her children over everything, which is how most mothers would be and really makes Alicia a grounded, realistic character.
A few more random thoughts about the episode:
•The show has fantastic secondary characters. Divorce attorney David Lee (Zach Grenier) is a great example of this. By the end of the premiere, he decides to stay with the firm because he realizes that he won't get his money otherwise. Lee bopping into Diane and Will's office to say he was going to show them loyalty was the funniest moment of the night.
•It's great to have Cary Agos (Matt Czuchry) back at the firm. But I need him to be more involved in the story line next week.
•I'm sure Alicia didn't miss her mother-in-law Jackie in this episode, but I did.
•There were great scenes between Alicia and Will in the premiere and I definitely think their past relationship is going to play a big part in Peter's gubernatorial run.
•Matthew Perry briefly reprised his role as Republican candidate Mike Kresteva. As much as I'm enjoying Perry's new series Go On, I'm hoping he has time to come back and debate Peter.
The Good Wife consistently and deftly balances multiple storylines—Alicia's personal life, Peter's political career, the firm's case of the week and the firm's constantly shifting internal politics. Although the only case this week's was Zach's arrest, all other story lines were on full throttle making "I Fought the Law" a strong premiere.
Programming note about next Sunday (Oct. 7) episode: Due to the NFL double-header The Good Wife will air 9:30 p.m. ET, 8:30 p.m. CT and 9 p.m. PT.
Others Tagged With