Bob's Burgers Review: "Ear-sy Rider" (Episode 3.01)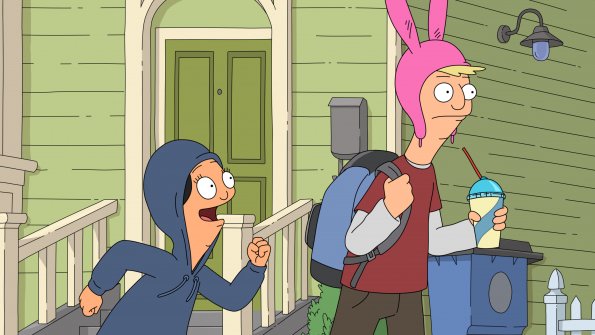 For some reason, Fox has been holding us back from seeing new episodes of Bob's Burgers. Instead of airing a longer season last year, Fox aired only nine of the episodes they ordered for their second season, holding off the rest for a third season. Which is a shame, because America needs more Bob's Burgers, in between The Simpsons in its bajillionth season and the Seth MacFarlane "Comedy" Hour. The second season ended with two episodes that each focused on one of the Belcher children, "Bad Tina" and the Gene-centered "Beefsquatch." Now Louise, the strongest character of the three Belcher children, gets her time in the spotlight with "Ear-sy Rider," and shows why Fox shouldn't have kept us from new Belcher family adventures for so long.
"Ear-sy Rider" takes two story elements that always make for good Bob's Burgers episodes: focus on the kids and have the restaurant interact with a group foreign to them. After a funeral next door for Horny Dave, leader of the One-Eyed Snakes motorcycle club, Bob's Burgers becomes an unexpected biker bar. This coincides with Bob and Linda's discussion of how the town is going downhill. Someone even threw a snow cone at Teddy while he was driving, making him think he ran into a rainbow. Things are getting terrifying. Not even the Belcher kids are safe, as older kid Logan has stolen Louise's signature bunny-ears hat. The already crazy Louise was apparently keeping what little sanity she had left in her hat, as she flips out without her headgear.
Since the new leader of the One-Eyed Snakes, Critter, owes Bob one, Louise cashes this in to get her ears back from Logan. This starts a confrontation between the parents in the town and the One-Eyed Snakes at Bob's Burgers. But an unexpected birth in the restaurant, from Horny Dave's girl Mudflap, brings the two groups together, instead of starting an incredible one-sided bar brawl.
But while "Bad Tina" and "Beefsquatch" isolated Tina and Gene from the two other children, "Ear-sy Rider" lets all three siblings work together in helping Louise in her quest to regain her ears. They can be fine separately, but together, they're a comedy team that always brings the show's best moments.
"Ear-sy Rider" also continues the show's habit of getting some great comedians for guest voices. Robert Ben Garant does another cameo for the show as Critter, while Kyle Kinane is a bit underused as a member of the One-Eyed Snakes. But the stand-out is Kurt Braunohler, who plays off Kristen Schaal well since they are actually a stand-up comedy team.
"Ear-sy Rider" does a great job of combining two seemingly unconnected stories, into a predictable, yet fun way. The show uses the ideas of family unity and just how insane the Belchers can be, into a great start to the third season and showcases why Bob's Burgers is the best animated show on television today.
Others Tagged With