Modern Family Review: "Schooled"/"Snip" (Episodes 4.02/4.03)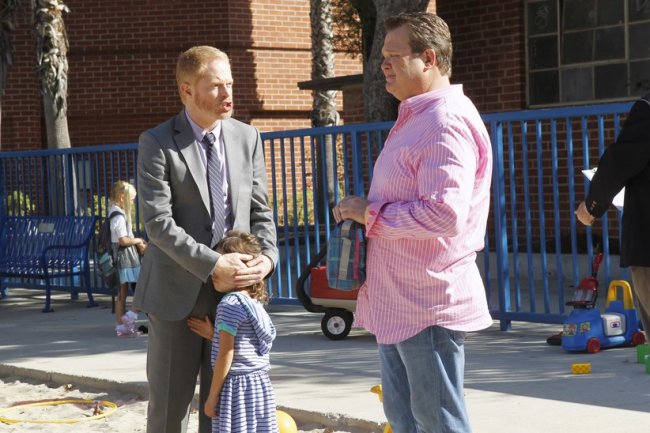 Thanks to last week's presidential debate, we were treated to a bonus Modern Family this week. It's too early to say, but this duo of episodes seem to be paving the way for a better season. Although the premiere was lackluster, these episodes provided laughs reminiscent of the first two seasons. But I don't want to jinx it…
Episode two, "Schooled," had diverging storylines, but almost all of them involved— you guessed it—school. Haley was preparing for college. Lily was starting kindergarten. And Jay and Gloria were sent to a baby class by Manny.
As Haley packed up for college and the family said their goodbyes, we were introduced to the gem that is Phil's-osophy. (If the writers ever have difficulty coming up with material, I would be more than happy to watch 30 minutes of inspirational readings from this book. With life advice such as, "If you get pulled over for speeding, tell the policeman your spouse has diarrhea," who wouldn't?)
Haley's move gives us a chance to see the family's heart, which is where this show usually succeeds. The Dunphy clan pulls it off well: Luke comes to say goodbye to Haley with a cyborg mask on as to not reveal tears; Alex hugs Haley while telling her not to "slut up" her college; Phil makes a moving day T-shirt and Claire buys her daughter condoms. Probably not the typical college student's moving out day, but there are relatable moments mixed with humor, which is what makes Modern Family Modern Family.
Another set of parents tear up, as Lily starts school. She doesn't seem to be phased by it, runs off, and immediately gets bullied. It's a rare occasion when threatening children is funny, but Cam pulls it off with the perfect combination of Missouri country-isms and his fatherly instincts. But as the school principal points out, using your hands instead of your words gets you a trip to the office. As punishment, Mitchell and Cam are required to have a family play date with the two best new characters: the lesbians. Wendi McLendon-Covey (Bridesmaids) and Michaela Watkins (former SNL cast member) play the moms of Lily's new classmate, Connor.
The pair plays the same lesbian stereotypes in the sense that Cam and Mitchell play the gay men stereotypes. But the writers call that out. (Cam, assuming they are vegetarians, says, "Well, I saw it on The L Word, I assume they have consultants.") The interaction between the two couples is best illustrated by a Venn diagram with a large intersection of casting and chemistry. Cross your fingers and say a prayer; let's all do what we can to get these two women more.
The episode wraps with Haley realizing how much she already misses her family (sappy, but sweet). Throughout the episode Jay and Gloria are at baby class, and they get kicked out. There's a larger lesson about how Manny has to let them be the parents, but this storyline is completely overshadowed.
Overall, it was a solid, funny episode, which would have been a much better premiere than the actual premiere. And the best part was there was another immediately following.
The third episode begins with Haley still missing her family and participating in the family's morning routine via laptop. It might not be 100 percent believable that a college freshman would Skype (or was it Google video?) with her family multiple times a day, but it's nice to see that Haley is staying in the mix.
Phil and Claire have a five-year plan, which basically means in five years they want an empty house and lots of time to travel. And seeing as they are nearly always overwhelmed and annoyed with their kids, they want it to start as soon as possible. Apparently a vasectomy is the way to do this.
With Lily at school all day, Cam doesn't have much to do outside of grocery shopping, shopping for food (may or may not be the same thing), and working on a secret master project. Mitchell would like Cam to get a job, but doesn't want to bring it up. In a clever ruse, Mitchell sets up Cam to get a job at their friend Longinus's boutique. But when J-o-e-u-x reveals the set-up, Cam leaves "without causing a scene," which is never really possible for him.
Gloria's pregnancy is far enough along that she should be wearing maternity clothes, but she isn't. Manny confronts her about her too-small clothing. In the midst of her learning that she actually looks pregnant, her shirt "couldn't take it anymore" and busts open, then the pants split. It's a bit slapstick, but Sofia Vergara is able to do it without it seeming over the top—even though it is.
Claire gets busy with errands, so Jay ends up taking Phil to his vasectomy appointment. Phil and Jay have one of the best, awkward relationships on this show, and it only gets better with each season because they continue to have great dialogue like this: "So you're saying that if I can deal with you, then I can handle any other little girl?"
Claire comes home to a new Goth-styled Alex and her friend Skylar, who is about to shave Alex's hair. While trying to make a point, Claire inadvertently removes a large chunk of Skylar's hair. Bad things always seem to happen when Claire makes a point, but this was definitely one of her best moments.
While Cam and Mitchell have an H-to-H about how he doesn't feel fulfilled now that Lily is back in school, we learn what Cam's eight-week-long master project is a hand-stitched mermaid costume … for the cat. They have what could have been a meaningful conversation about Cam having purpose, but it's sitcom-packaged and neatly glossed over with the end solution of Cam becoming Manny's new music teacher.
And surprise, surprise, Claire talks Phil out of getting the vasectomy because she realizes how sweet her kids are. They can wait another five years for their five-year plan. Although the montage of Claire realizing how much she loves her kids was endearing, it's not really clear why they wouldn't go through with the vasectomy. After all, it would take more than five years to raise a fourth child. It was an easy way to wrap up the episode, but let's hope it doesn't mean the writers are paving the way for a double pregnancy.
Best Lines:
"I'm going to cry harder than the first time I saw Airbud."—Phil
"Is this kindergarten or The Hunger Games?"—Cam
"I'm totally going to have fun. I'm Iceland in the mock UN."—Alex
"A. It's hooky. And B. Don't ever take me out of school to play hockey."—Manny
"Is it a 'vasecto-you' or a 'vasecto-me'?"—Phil
Discuss:
So it's not OK to make frittata for brunch anymore?
How do we get copies of Phil's-osophy?
Is Luke secretly a genius? That yogurt trap was … well, genius.
How do you put a cat in a mermaid costume?
Others Tagged With