Neil Young and Crazy Horse: Psychedelic Pill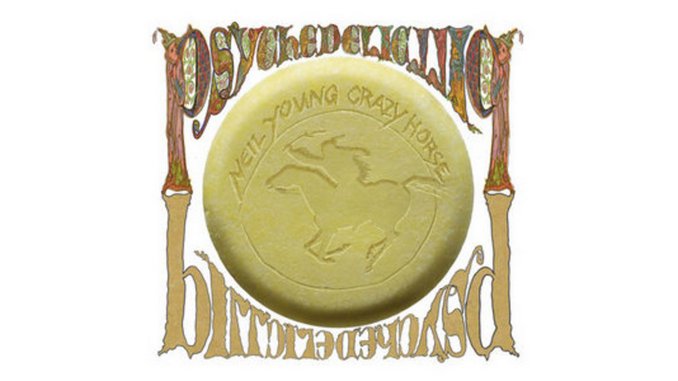 It had all of the elements of a perfect storm. Review copies of Waging Heavy Peace Neil Young's long awaited autobiography and Psychedelic Pill, the first real Crazy Horse recording in nearly a decade (if you don't count the very likeable Americana which amounted to little more than a warm-up disc of songs that Young used to play with his teenage band in Winnipeg) dropped into my mailbox on the same morning.
I'd spent the week before that cleaning the yard and pruning trees while listening through all five DVDs of Young's Archives box set in anticipation of these arrivals, so it's safe to say that I was saturated and moving through my days in heavy Neil Young territory. And, it's been a great experience for the most part, but it's started to catch up with me, for Neil Young is a weird character—and like spending time with an old best friend that's increasingly hard to keep up with—it's been a strange, but thoroughly rewarding ride.
One of the first things that becomes apparent while reading Waging Heavy Peace and listening to Psychedelic Pill at the same time is that they are deeply interwoven and operate together. Most of the songs on the two-disc set refer to episodes, issues or emotions expressed in his book, as MP3 sound quality, drugs, old friends and the passage of time are all contemplated in what must certainly be the most unassuming and artless collection of lyrics that Young has ever recorded. It may strike one as ironic that Young's autobiography runs at nearly 500 pages long, while the words he sings on his new record are perfunctory at best. The good news is that it doesn't matter one bit. Young has obviously said all he has to say for the time being in his book. Psychedelic Pill is a flat-out guitar record, and it's one of the best ones you'll ever hear.
Having spent so much time revisiting his past, the sounds Young explores on Psychedelic Pill evoke Canada and his roots more than any other of his recordings. It's difficult to describe, for even though there's nothing overtly Canadian (other than the rather obviously titled "Born in Ontario") in the lyrics, there's something deeply Northern in the flow of the wordless emotional passages in the longer songs that captures the vastness of the prairie and the depth of the woods in a way that couldn't be conjured by someone from anywhere else. The music on Psychedelic Pill is physical; it's sonic sculpture that the listener can almost reach out and grab. And though it's completely recognizable as Crazy Horse music, there's something new in the sound, a focus and sharpness that has often been missing in the past. Whether it's a result of Neil Young's decision to quit smoking pot after almost 50 years of toking or it's simply the fact that the clock is ticking and life's too short for any more bad records, is beside the point.
For those people who were disappointed with some of Neil Young's latest offerings and have been with Crazy Horse through all of their good, bad and ugly phases, Psychedelic Pill is the record that everyone hoped the band would be able to pull off. This is no gloriously sloppy, 'bad notes and all' romp through inconsequential territory; Psychedelic Pill's intensity is unrelenting from beginning to end. Finally, Crazy Horse has been taken to a new dimension that encompasses everything it has done before, with the customary fog replaced by a disarming focus that is almost piercing.
The opening track, "Driftin' Back" is over 27 minutes long, but it never loses its way, and in the end, there's not one second that should have been left out. From the acoustic intro that takes the listener back to Buffalo Springfield, CSNY days to the reverb swirls that break down into Crazy Horse grunge, Neil encourages the band and allows his guitar to roam all over the map as he treats his longtime fans to some expressive leads and melodies that sound cutting and new.
The music on Psychedelic Pill has its own groove and tempo that—despite the often harsh and raw timbre of the songs—encourages the listener to relax, wait and feel all of the communicated emotions in an unhurried manner. The record's sonics are grounded in the language of rock music, but there's something truly unique in the thick stew that Neil and Crazy Horse have brewed here. Miles Davis in 1970, Jimi Hendrix's "Moon, Turn the Tides" from Electric Ladyland, Grateful Dead live "Dark Star" from around 1973; it's hard to think of better comparisons.
Given the expansive mood Young and the band are in, it's not surprising that the longer songs are the best ones on Psychedelic Pill. "Ramada Inn" is a wonderful Greendale-meets-Dylan scenario that looks back on the twists and turns of a long-term relationship, as a husband and wife consider their lives and futures now that their kids have grown up. With its shifting points of view and the inner lives of its characters expressed by blistering harmonically deconstructed solos from Young, it is an emotional gut wrencher and a memorable addition to the band's repertoire.
These days, Crazy Horse fans would be delighted to have even one major extended jam like "Driftin' Back" or "Ramada Inn" appear on an album, but these tracks only serve to clear the ground for what must surely be the most 'outside' track Young has ever recorded. At the outset, "Walk Like A Giant" sounds just like many other Crazy Horse opuses, but just when I thought it would content itself with being just another routine sludge through the primordial soup, something terribly distressing started to happen around 10 minutes into the song. There's distortion and then there's distortion, but I've never heard anything like the sheets of crackling white noise that slowly took apart the song to devolve into almost five minutes of the most basic, caveman thudding ever captured. Like Orwell's elephant, dying in a universe remote to human understanding, it felt as if the pounding would never end, until finally the shreds of Young and his guitar are called back by a lone drum beat, a single candle to convince him that he's not alone out there and that it is safe to come back. It is a performance with few parallels in popular music. Listening back, it is simply astounding, not only that they pulled it off, but that they managed to cram so many daring sonic ideas into a rave up that is absolutely "grab you in the crotch" riveting. Migraine headache? Big Bang revisited? Voices of Angels? You decide.
The short songs on Psychedelic Pill don't always work as well. "Twisted Road" is a song Young has been playing in concert for years, and the trim version recorded here is the exception. Otherwise, the title track—presented in two versions here—along with the throwaway "She's Always Dancing" are little more than rewrites or new explorations of emotions and situations described in songs like "Cinammon Girl" or "Like A Hurricane." The dreamy, ethereal women he describes in these songs, hovering just out of reach, have tormented Neil Young since the beginning of his career. Other tracks, like "Born in Ontario" have some nice images that resonate with an older Canadian like myself, while "For The Love Of Man" written for his son, Ben Young, treads some very familiar ground, but it is quite lovely, nonetheless.
After a string of albums—including Fork In The Road, Living with War, Le Noise, and Americana—that had good moments but failed to ignite, become transcendent or threaten eternity, Psychedelic Pill couldn't have come at a better time. For, who would have thought at this stage of his career, Young would make the effort and take the risks necessary to wrench such downright distressing, disturbing and fucked up solos out of Old Black, his much loved and abused guitar. As I said at the beginning, this is a guitar record, and as you listen more, you'll get the feeling that the lyrics are little more than telegrams, semaphores sent from deep in the red woods of Young's imagination. They're rattled off as quickly as possible before the guitar pushes the singer aside and language's ability to anchor us slips away. From there, it all breaks down into screeches that alternate between warm and shrill, as every pop, scratch and fuzzy refrain gets weirder by the minute before dissolving into plaintive wails that emanate from some strange outer limits channel that only Mr. Young can dial into.
Psychedelic Pillmay be the best album Neil Young has ever done with Crazy Horse. It'll take years to figure out.
Others Tagged With