Saturday Night Live Review: "Bruno Mars" (Episode 38.05)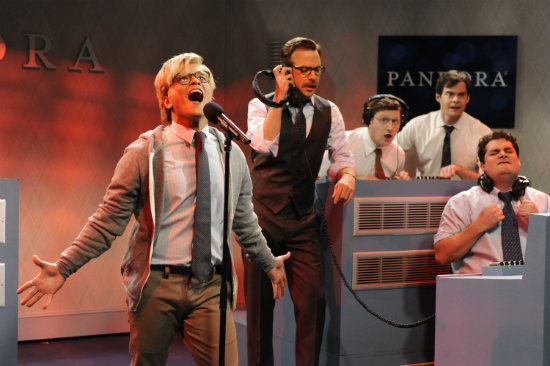 In the past decade, only eight different musicians have been asked to perform both hosting and musical guest duties in the same episode of Saturday Night Live. Joining a lineup that includes Elton John, Mick Jagger and Justin Timberlake is Bruno Mars, who, unlike almost all of these prior hosts, stated that he has never done comedy or acting before. At times, this really showed, as Mars could be incredibly stiff and uncomfortable, but other times he pulled off his duties. While this episode had a few sketches that were pretty terrible, it probably had the most laugh-out-loud moments of any episode so far this season.
The Presidential Debate had its usual place at the cold open, yet it held some of the big key moments for later in the episode, such as the "binder full of women." Sudeikis and Pharaoh play Romney and Obama appropriately like two guys getting ready to go to blows. Tom Hanks made a quick appearance as one of the audience members at the debate, while Romney begging with Candy Crowley not to ruin him over his Libya comments and Obama dropping the mic in victory ended a strong political opener.
The opening monologue once again was focused around music, with a song about how Mars is nervous about hosting for the first time. This is the fourth time the show has done this in its five episodes. I swear, when Louis C.K. hosts in two weeks, if he ends up singing, I am just going to snap.
The episode was scattered with fake commercials with Taran Killam as Brad Pitt. The first was for Chanel, in which the director wanted him to get less coherent and look super homeless. This was later followed by commercials for Taco Bell, Franklin's Dog Condoms and Doctor Zizmor Tattoo Removal. The first two were decent, but the more it came back, the more the idea wore out its welcome.
Haters With Sunny Taylor Tompkins, the episode's first actual skit, didn't give me much confidence for the episode—especially since the majority of the joke was crowd boos and Bobby Moynihan and Mars cross-dressing, which the show is also starting to wear into the ground this season.
A Pandora Headquarters sketch was more in the right direction, as Mars played an intern who had to sing like different singers as different stations started going down. Mars nailed his Billie Joe Armstrong and Michael Jackson impressions, while his Justin Bieber, Katy Perry and Steven Tyler ones just kind of dragged the skit out.
For the first time since Andy Samberg's departure, the show made their attempt at a short. And they actually kind of pulled it off. The bit, entitled "Sad Mouse," starred Mars as a guy having a horrible time in his life who is hired to dress up like a patriotic mouse in Times Square and wave at people. It's much funnier than expected and ends on a cute note. It'll be interesting to see if SNL makes more attempts like this in the future, especially since this short is stronger than most of the Digital Shorts in Samberg's last season.
Mars' first musical performance of the night was the incredibly catchy "Locked Out of Heaven." I'm not a huge fan of Mars' music, but this song is a lot of fun, and Mars does a great job performing. His second song slowed things down a bit, and didn't have the power of his first, but at least it let Mars show off his strengths.
Then the episode really started to pick up. Weekend Update has been very strong this year, but Stefon has been notably absent up until now. With this technically being their Halloween episode, Stefon made his first appearance of the season to talk about some of the hot Halloween spots in New York. Of course, Bill Hader loses it over and over, which only makes the bit greater, but he seemed to break even more than usual.
From there, we get a haunted house skit, bringing back Killam and Hader's animatronic characters, bringing in Mars and Hanks this time as well. This is one of those SNL skits that doesn't change much whenever it's done, but it's always done so hilariously, that doesn't even matter.
Right up there with Haters was the worst skit of the night, which took place at a cabin near Yeti Point. The joke was that Hader played a man who was sexually assaulted by a yeti, which we see by the skit's end. It wasn't helped by putting Mars at the forefront, and even the audience sounded listless about halfway through.
Ending the night was another bit that has been done, but it always a welcome return: the Under-Underground Records Festivals, this time with the Donkey Punch the Ballot Festival. For some reason, this has never gotten old for me and like Stefon, always makes me so happy to see its return—if for no other reason, just to see Ass Dan die, only to return to life the next time the segment reappears.
Mars may have seemed like an odd choice, especially with Hanks hanging out the entire night, but thankfully he wasn't asked to be upfront too much throughout the night. His episode still had the slow moments and just flat-out bad skits that the past few weeks have had, but with many more highs that balanced things out. And c'mon, an episode with Stefon AND Ass Dan is never a bad thing.
Best Lines of the Night:
-Seth Meyers on what the candidates should and shouldn't say in the final debate:
"Romney, do mention that you saved the Olympics, but don't mention that it was the Winter Olympics. The Summer Olympics are a grand spectacle of sport. The Winter Olympics is just 48 different kinds of sliding."
-Stefon's Halloween hot spot, whose name is just a series of growls, sounds amazing:
"Located in an abandoned whitefish factory in Little Israel, this place is going to have everything: ghosts, ghouls, goblins…MY SON!"
-The moment that finally brought Hader to tears:
"There's a special guest. Have you heard of Blacula, the black Dracula? Well they have a Jewish Dracula: Sidney Applebaum."
-The Donkey Punch the Ballot Festival (happening at a KFC in Syria) is going to have everything: Performances by George W.'s Bush, Todd Akin and the Legitimate Rapes and Sixpence None the Richer. It'll also feature a re-enactment of the Lincoln-Douglas debates by Linkin Park and Buster Douglas, job interviews with Herman Cain (bring a condom) and cracked-out elephants and donkeys.
Others Tagged With