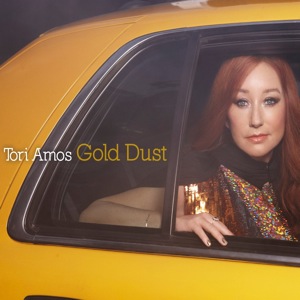 All the way back to Y Kan't Tori Read, Tori Amos has always been the feral Kate Bush—slightly more muscular, possibly more grounded on terra firma, but absolutely given to an ethereal sense of melody, a fraught tension that pushes the limits juxtaposed by a celestial voice that quivers in ways mere mortals could never affect.
For Gold Dust, a career-spanning redux of 14 songs, the dervish diva of lush song structure enlists Netherlands' 52-member Metropole Orchestra, a progressive big band/symphony amalgam that's also worked with Chaka Khan, Andrea Bocelli, Ella Fitzgerald, Brian Eno, Steve Vai and Sarah Vaughan. Re-sculpting many of her best loved songs, the complexity of her musicality emerges from the intensity of the originals—as dynamics are truly sculpted and the songs take on new and often more ominous colors.
The cascading piano of "Flying Dutchmen" opens into a string section that punctuate the melody, evoking Rickie Lee Jones gone classical. Oboes thread in, harmony vocals rise on the chorus and that momentum-driven soprano asks "are you out there," equal parts three-ring drama and bravado-steeped innocence.
Not that innocence has been the helium-and-dagger-throated songwriter's stock. Even with orchestral framing for "Precious Things," her guttural enjoinder "all those Christian boys/ just because you can make me cum/ it doesn't make you Jesus…" falls with a definite lash and sting.
The flute-strewn ooom-pah-pah whimsy "Programmable Soda," the holiday sparkle of "Star of Wonder" and the swooning, '20s-evoking romantic elegance of "Snow Cherries from France" demonstrate the depth of what these songs can do. But it's done to coax nuances, not lose the original intent in a rococo frame of complexity and virtuoso performances.
On the devastating "Silent All These Years," the silken quality of the paprika-tressed Amos' soprano is mostly buoyed by a grand piano scattering notes across the moment, the string section only serving as a Greek chorus to echo the themes being excavated by singer and primary instrument.
Like Bush and Joni Mitchell, another writer who flourishes in complexity and a pristine vocal style, Amos has sought sanity in the unthinkable, courage in the storm and a gorgeous way of rising from the fire and ashes. "Girl Disappearing" spirals upward, dizzying in its strength and candor.
As a woman who cites "Jackie's Strength" as a means of fortifying her own reality, the metaphor of Jackie Bouvier Kennedy Onassis becomes a role model for what many women endure. Swathed again in strings and grounded by the piano passing from rising chord to chord, it is classic Amos.
Others Tagged With