Modern Family Review: "Arrested" (Episode 4.07)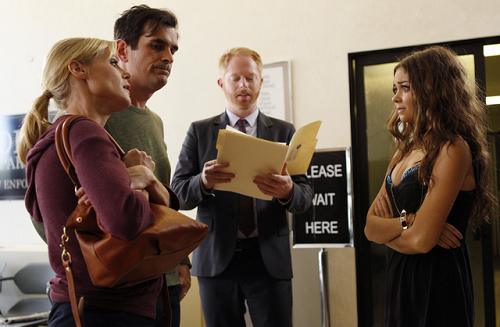 For the second time this season, the whole gang is awake in the middle of the night. This time it's because of Haley; she's been arrested after drinking at a party at her college. Claire, Phil and Mitchell take the (long?) drive to bail her out of jail. Cam takes Lily over to the Dunphy house to watch Alex and Luke. And Jay and Gloria are called and woken up too…pretty much just as an excuse to see all families in the cold open.
Cam thinks that Claire isn't impressed with his parenting skills, so he tries to overcompensate when the kids wake up—or maybe it's just Cam being Cam—by making a wholesome, over-the-top breakfast. Because of his recent health kick, he makes and serves a faux-facon (soy bacon), "faucon." Problem is Luke's allergic to soy, and a trip to the ER follows. Luke survives his allergic reaction, and Alex somehow finds herself in the middle of an intern rotation at the ER.
Meanwhile, on the drive to Haley's school, Claire is annoyed by how calm Phil remains under pressure. She's frantic about the fact that her firstborn is in jail, while Phil can only think about waffles. It turns out that Haley was arrested for resisting arrest and assaulting a police officer, not just underage drinking. The best part about this situation is seeing Phil step up and finally be the "mean" parent. His tough love scares her into acting like an adult, and his yelling even gets Claire's admiration. Unfortunately, that doesn't help keep Haley in school. She'll be returning home, which isn't good for her education, but good for sibling rivalry scenes.
Jay and Gloria's drama is unrelated to the Haley fiasco, but adds a nice storyline to this episode. Jay's ex-wife (and Mitchell and Claire's mom), DeDe, comes to town. She doesn't know about Gloria's pregnancy, and if history—through well-placed flashbacks—teaches us anything, it's that DeDe doesn't like anything about Gloria. However, unlike history, her meds are in order and she actually bonds with Gloria. The conclusion, Jay saying he'll be around for the baby, is a bit sitcom-cheesy, but it's always nice to see Shelley Long reprise her role.
The best part of this episode was Mitchell. He's usually humorous, but only because he makes fun of Cam or Claire. Being the brunt of lawyer jokes (albeit unrealistic ones—anyone who went to law school could survive a university hearing, right?) gives Jesse Tyler Ferguson the chance to step outside of his normal, stuffy character and provide some comic relief.
Best Lines:
"It's faucon disgusting."—Mitchell
"I remember one night freshman year a bunch of us on the Frisbee golf team got a case of Zima. Enough said."—Phil
"I would love to go to the Spoken Word Festival, but I'm already going to the I'd Rather Blow My Brains Out Jamboree."—Jay
"Move it along Aiden. This is a disciplinary hearing—not J Date."—University official
"Alex, don't fight with her. She might have a shiv."—Luke
Discuss:
Who would watch the Lifetime original movie called The Boy Who Can't Breathe, starring Amanda Bynes?
Are the writers psychic? How did they perfectly time Luke's Obama joke?
Are you glad Haley's back in a non-video-chat way?
Others Tagged With