Massive Attack: Blue Lines Reissue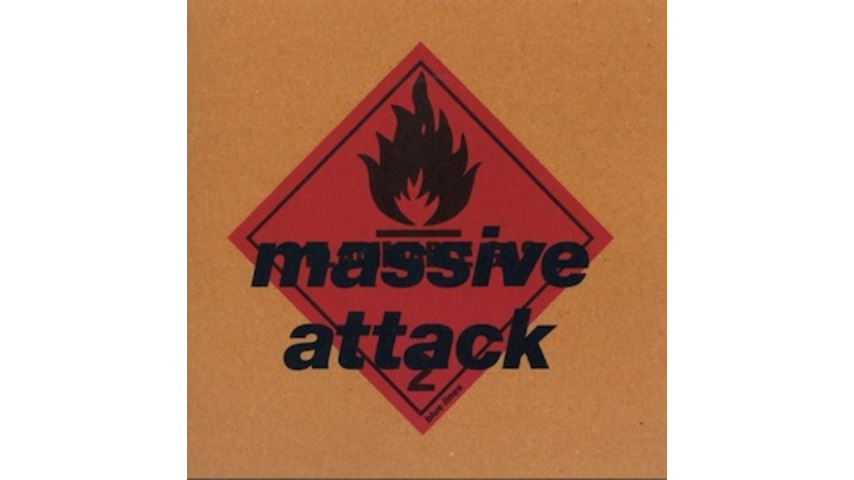 We weren't listening to Blue Lines in 1991. Whoever swears they were ahead of the curve and booming Blue Lines at its original summer release is either a veteran of the Bristol underground or an opportunistic liar.
In August of '91 we still hadn't heard the first rumbles of the Wild Bunch, nor could we place the names 3D or Daddy G or Tricky Kid or Shara Nelson. We were listening to Seal. We were listening to Deee-Lite. We were listening to Pato Banton. We were losing our patience waiting for the Fine Young Cannibals and The Jungle Brothers to follow up The Raw and The Cooked and Done By The Forces Of Nature. We were losing our patience listening to the follow-up from Urban Dance Squad, wondering what the hell happened to "Fast Lane."
We weren't the only ones who overlooked Blue Lines. Outside the UK, sales were soft at best. In their year-end list, Spin rated Blue Lines below both a one-sided Soundgarden record and PM Dawn's drifting debut. Rolling Stone lauded tracks by Jesus Jones and Naughty By Nature in their critics' top singles, ignoring Blue Lines' epic "Unfinished Sympathy."
In 1991, we weren't prepared to grasp Massive Attack's concept of the musical group as an amorphous "soundsystem." We thought of bands the way we thought of most things: you were in or you were out. We were over a decade into the Reagan/Bush/Thatcher-era. We didn't believe in change; we believed in resignation. We didn't believe in trust; we believed in Rage. We understood grunge; we understood gangsta rap. We were young. We liked rum and fistfights.
We first clued in to Massive Attack after hearing whispers of involvement by Nellee Hooper and Neneh Cherry. We liked "Back to Life." We liked "Buffalo Stance." We spun Blue Lines and couldn't figure out exactly how Nellee Hooper and Neneh Cherry fit in. We'd embraced The KLF, Enigma, This Mortal Coil—even with their shadowy fronts, we were convinced those bands had identifiable auteurs at their core. We were young, but our approach to music was old. We were still dissecting Paul's Boutique and trying to label which Beastie was responsible for which part. To comprehend an art we first needed to identify its author. We couldn't get our arms around Blue Lines because the whole record was a freaking movement.
Even so, we didn't banish our copies of Blue Lines to the used bins alongside all those Jesus Jones and Naughty By Nature discs. We hung on to Blue Lines because Scott Poulson-Bryant had championed the album, and unlike most of the adults in our lives, Scott Poulson-Bryant rarely let us down. We kept our copies in messy stacks in our dorm rooms, under the passenger seats of our cars, next to the half-broke boombox in the break room where we worked. We hung on to Blue Lines even though we still didn't have the tools to process it. Stunning, star-turn vocals by a frontwoman who then disappeared for over half the album. Pass-the-mic posse raps where the only MC with an actual flow—Tricky—may or may not have been a full-fledged member of the band. Was this a band? Was this a compilation? Was that faithful rendition of "Be Thankful For What You Got" a sample or a remix or an old-fashioned cover? Was that middle-aged Rastafarian lost on his way to Reggae Sunsplash? Who the hell was the maker of this sound?
We didn't know what to do with Blue Lines until three years later, when Tracy Thorn stepped up to the microphone and chilled us all out with "Protection." We've always had a soft spot for white Englishwomen singing American R&B. We'll always have Dusty In Memphis.
We put "Protection" on our headphones, we played it on repeat—over and over until at last we understood: the sound was the thing. Then we went and dug through the stacks in our dorm rooms; we reached under the passenger seats of our cars. We took our coffee-spattered copies of Blue Lines back from the break-room. We gave it another spin.
Goddamn.
"Safe From Harm" surges forth on its spyhunter groove as Shara Nelson gets her Gloria Gaynor on: "But if you hurt what's mine, I'll sure as hell retaliate." So used to being hit upside the head by Chuck, Cube and De La Rocha, we'd been stone deaf to Massive Attack's elemental ferocity. Seguing to the ominous "One Love": by now we've sold back our Pato Banton CD's; by now we can hear the footsteps and echoes of Sly & Robbie and Studio One as Horace Andy's androgynous tenor creeps atop the stalking breakbeat, pushing a celebration of monogamy toward the borderline of obsession.
We began to realize this sound was fucking hard. Not blustery, not indignant—a taut power instead wrought from a lifelong refusal to back down. We recognized how brilliantly "Be Thankful For What You Got" anticipated the dive bar confrontations still rattling around in Tarantino's brain, that cinematic "it's all cool until it's not cool" tension. We paid less attention to "Unfinished Sympathy's" Abbey Road strings and began to hear the manic urgency in the steel-struck percussion and for-tomorrow-we-die wails, an eternal street holler that has never sounded dated or quaint.
We began to appreciate that in just 45 minutes, Blue Lines contained an entire musical history: from jazz fusion to hip-hop; from Studio One rocksteady to Black Ark dub; from Stax-Volt to AM Soul; from glam disco to chilly electro. We began to appreciate the album's impeccable sequencing: the rhythmic continuity born of repeated Billy Cobham/Mahavishnu Orchestra samples, the savvy spacing of Shara Nelson's climactic peaks, the intertextuality of Horace Andy toasting his past hits and "Daydreaming" reprising "Safe From Harm's" ignition-key groove.
We began to wear out our copies of Blue Lines.
Because we wore out our copies of Blue Lines, we didn't miss the boat on Endtroducing… or Dr. Octagonecologyst or Madvillainy. Because we wore out our copies of Blue Lines, we understood Burial from track one.
In Thanksgiving to all those timeworn discs, EMI has glossed Blue Lines with a lapidary remaster. No bonus tracks, no live filler—no reason to mess around when the perfection was in the pacing. The sonically superior re-release crystalizes every track, sacrificing little of the album's pre-millennial dank. "Safe From Harm" pumps the swirling wind higher in the mix, foretelling the gathering storm; "Lately" now pops to an extra layer of vintage vinyl crackle; the lounge-lizard organ in "Blue Lines" finally sounds like it's coming from the stage instead of the cloakroom.
Not all progress represents improvement: the drum hits in "Be Thankful For What You Got" have been honed down to something curt and empty, entirely at odds with the track's keep-cool vibe; the strings in "Unfinished Sympathy" swell with even greater portent, but as their counterpoint, the metallic percussion comes across as petty and muted, that once-frantic timekeeping now sounding more like a pencil tapping against a desk.
We may go on to further debate those headphone gripes. We may wonder whether the puffing weed exhales really needed greater articulation. We may argue whether the revamping of "Hymn Of The Big Wheel" brings the track too fully into the daylight. We won't, however, spend too much time fussing over the liner notes or the credits or the packaging. We've gotten older, but our approach to music is new. We've come to understand that nothing matters but the sound.
Others Tagged With