Modern Family Review: "New Year's Eve" (Episode 4.11)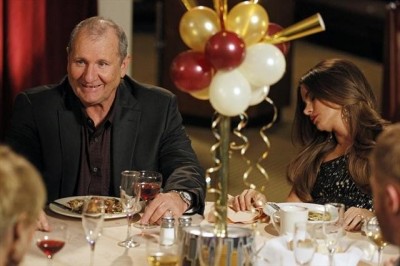 If, like Phil Dunphy, you are a fan of Lando from Star Wars or you are a fan of new Lily, you probably were satisfied with last night's episode. For the rest of you, well … it's a new year, be generous and don't give up on Modern Family just yet. Community writer Megan Ganz is joining the Modern Fam crew, and there were a string of strong episodes leading up to "New Year's Eve," so let's focus on the positive. That was your resolution, too, right? No? OK, well let's break down last night's episode anyway.
New Year's Eve for the adults of the Pritchett/Dunphy clan was held in Palm Springs at an "amazing" hotel, courtesy of Jay. Previous outings (the Dude Ranch, Disneyland) have left us expecting a lot of these family vacays, but this childless trip wasn't as entertaining—for viewers or the characters. Jay hasn't been to this all-inclusive hot spot since the '70s. Now it's dirty and just weird. It's also not clear why they stay there—call me crazy, but I tend to not stay in hotels where I find weird items in the bed, dresser and bathroom.
While Jay has plans for a fancy dinner at the Starlight Room, both of his kids and their spouses try to find ways to get out of it. Cam and Mitchell are itching to go to a club, to feel young, and, mostly, to stay up until midnight. Claire and Phil are eager to get away because they haven't had sex in (gasp) one whole month. But when Gloria falls asleep at the table, Jay takes her to the room and both couples make a quick exit. The silver lining in this tired storyline is that Jay joins a backroom poker game, where he meets the great Billy Dee Williams himself.
Billy Dee doesn't really do much except stand there, smile and deliver one great line: Every night is New Year's for Billy Dee. But when you're Lando, what else do you need to do? He did save Jay and Gloria's night with grapes and a Rolls-Royce Corniche. Phil and Claire were finally able to find alone time and then inadvertently joined in a Nude Year's Eve party. Cam and Mitchell pull a "Goldilocks": visiting a sleeveless bar and an "alternative lifestyle" bar before finding an older gentlemen's bar, where they got their wish to feel young.
New Year's Eve for the actual young group was a little more exciting. Luke invited a girl over, and she brings a girl for Manny, who is unaware he's being set up. ("What? I'm on a date? I'm not even wearing any cologne.") Haley and Alex try to figure out what to do with Luke being with a girl while Lily runs around with a coyote, colors on the wall and babysits herself.
This second storyline could have served as the main focus of the episode; it was superior for a number of reasons. First, new Lily has finally won me over. She played a pretty small part, but she was perfect. Second, Luke is growing up! Third, Manny. "Oh, and if you're hungry for broccoli later, you'll find a piece in your teeth." Enough said. And finally, it was great to see Haley and Alex working together. Their reactions to Luke trying to make out with a girl in his room were so spot-on and offered an actual growing experience for Haley.
Best Lines:
"We should start calling her ranch house because she doesn't have a second story."—Cam
"Never trust pictures on the Internet. Shoot it from the right angle and you can make anything long bigger and better."—Phil
"My whole life is a Hunger Game; why do you think I'm so mean to you?"—Haley
"Where do you go to tattle when Prince Harry is naked in Vegas? Straight to the Queen."—Jay
"In my village, if you didn't drive one of these, you couldn't call yourself a drug lord."—Gloria
Discuss:
Have you ever found a sock in your hotel bed? And then stayed there anyway?
Does a Colombian New Year's tradition with grapes actually exist?
Does anyone really need to watch Lily? She's kind of a rock star now.
Others Tagged With