Jim James: Regions of Light and Sound of God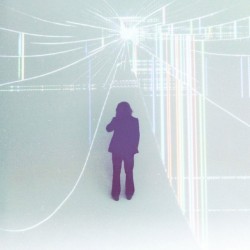 Imagine you're the frontman for a successful rock band. Over the course of your career, you've somehow managed to acquire not only indie credibility but a fan base sizable enough to pack arenas. You eventually decide to branch out and form new groups with talented peers. Maybe you decide to contribute to a film soundtrack or even accept a cameo in said film. But eventually, critics and fans alike will begin to wonder when you'll take all the talent that has benefitted your band and release an album of your own. Just look at Morrissey, Thom Yorke, any one of The Beatles (OK, maybe not Ringo), or even Beyoncé.
The above scenario describes the career of My Morning Jacket's Jim James. But it could also perfectly reflect the artistic trajectory of fellow musician Jack White. Just substitute White's Raconteurs for James' Monsters of Folk in the supergroup category, or trade in White's musical contributions and acting role in Cold Mountain for James' participation in I'm Not There. The similarities between the two artists' paths are striking when examined. And now, where White ventured last year with the release of his solo debut, Blunderbuss, James has now followed with an LP of his own, Regions of Light and Sound of God.
The way the two records land is also parallel. One of the most interesting things about Blunderbuss was how the whole record seemed strangely familiar. It felt very much like a mixture of everything that came before in White's career while still feeling fresh. It's chock full of trademarks like squealing, blues-tinged riffs or playful lyrical humor. There's a subtle nod or wink to this or that, but nothing that can be directly traced to a specific moment in White's back catalog. Simply put, it's undeniably Jack. James treats his own solo debut in much the same way.
With Regions, the central Jim James fingerprint is his voice. It permeates every track on the record, and it's just as angelic and powerful as ever. However, sonically speaking, the album draws more from the down-tempo grooves of James' oeuvre rather than the bombastic stadium rock often associated with his work with My Morning Jacket. Think more Monsters of Folk's "Dear God (Sincerely M.O.F)" than MMJ's "One Big Holiday," closer to the ethereal instrumental break in "Off the Record" than the driving guitar riff.
The album also features a somewhat science fiction-inspired theme both in terms of sound and lyrical content. This isn't really much of a surprise since James hasn't been shy about his intentions for the record. "I wanted the album to sound like it came from a different place in time," he said. "Perhaps sounding as if it were the past of the future, if that makes any sense—like a hazy dream that a fully-realized android or humanoid capable of thought might have when it reminisces about the good old days of just being a simple robot."
James' conceptual intentions are made clear from the first track, "State of the Art (A.E.I.O.U.)," in which he contemplates the supposed benefits of technology. However, the song seems to focus more on the failings of our tools as the vocals begin to break up while James says, "I think the power's going out." Even the straightforward acoustic instrumental "Exploding" starts to drift out among the stars as guitar notes like a melodic sonar begin to ping their way into the song.
Other themes like religion, destiny and the pursuit of happiness find their way onto the record as well, presumably through the influence of Lynd Ward's 1929 novel-in-woodcuts Gods' Man, of which James is an outspoken fan. This early incarnation of the modern-day graphic novel tells the story of a young artist who engages in a Faustian bargain with Death, exchanging his life for a magic paintbrush enabling him to embrace the skill and success of the masters who came before him. Of course, money and fame aren't all they're cracked up to be as the artist learns the hard way before finding true happiness in love and family just in time for Death to show up and collect on their agreement.
Bits and pieces of this narrative are sprinkled throughout the album's tracks, which flow often seamlessly into one another. It seems like James' full-length solo debut might even have a vague story of its own. However, as easy as the record is to listen to, discerning a complete tale from the songs proves to be much more challenging, but in the most fun way possible. The album definitely tempts the listener to journey down a rabbit hole, but the trip isn't required to enjoy it.
Either way, Regions of Light and Sound of God marks a promising first entry in a solo career we've been waiting on. It's a bold direction that's not always easy to pursue successfully in the world of music, but Jim James is sure off to a good start.
Your move, Jack.
Others Tagged With