Kacey Musgraves: Same Trailer, Different Park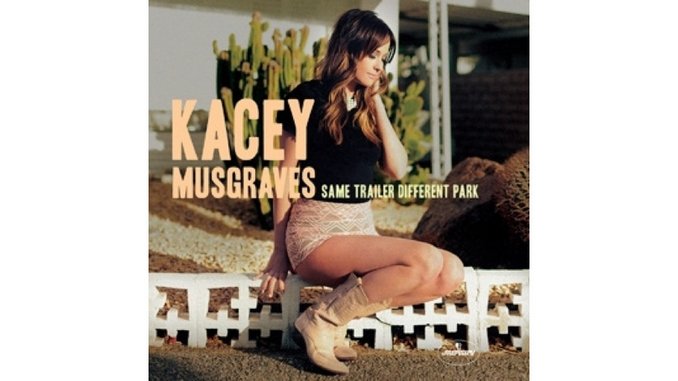 Kacey Musgraves, 23, sings unvarnished truths about being hooked on "Mary Kay, Mary Jane and Mary down the block," but she's maintained the sunniness that is the right of the young. Even surveying the stationary "Merry Go Round," she shines.
It's a real world the pragmatic singer/songwriter lives in. "It Is What It Is" is a "making do with what you know 'til you find something better" love song for a post-modern kid-of-divorce kinda reality.
But that's not all that sets country's latest blaze of glory apart. With three self-released projects, a duet with the Josh Abbott Band and surviving TV's dreadful Nashville Star, Musgrave is not a hothouse Country Barbie. A gritty girl dug in, she embraces her Bob Dylan overtones (the harmonica on "My House"), Roy Orbison steel cry and mariachi Eagles-tinge ("I Miss You") and a tumble of revival slap 'n' stomp ("Stupid"). This is no conventional pop-country supernova.
With a voice that's pretty, but brazen, Musgraves has no problem slinging attitude, crying bullshit or coyly advocating same-sex amour/dope-smoking while skewering hypocrisy. With a lilt in her phrasing, "Follow Your Arrow" demonstrates the beauty of living your life as it feels right, with the tambourine finding the beat and the acoustic strumming merrily away.
At a time when Mumford & Sons and The Lumineers are dominating pop, there would be bridge country artist—and that artist isn't steam-punk devotee Taylor Swift, whose treacly cat-offs are so strident. Instead, the banjo stroll of "Step Off" takes "Mean" and spins it with more inventive rhymes. All candy-coated truculence, Musgraves lullingly intones, "Screwed everybody over in this town/Ain't nothing between you and the cold hard ground/Keep running your mouth and stretching the truth/you might find a hole in your parachute…"
Like Swift, Musgraves sings of shattered romance, stacking images and sensations like toothpick castles. Still, "Keep It to Yourself" is more survival of a tender heart than stridence on the half shell.
That charm and pluck breaks ground for girls who want to be more than clichés. The low slung Stones-ish vamping yowl of "Blowin' Smoke," all hip-swagger 'n' bravado, takes the downstroke hard and witnesses to the realm of the waitress on the run and the smack talked by the ones left behind. Alley cat slide, a saucy chorus of validators and a bit of barbed electric guitar stitch down the details of shiftwork and bravado. It's a manifesto that'll never come true, but is dignity enough to get by on? A thin margin, but one Musgraves walks straight into the sunset.
Others Tagged With