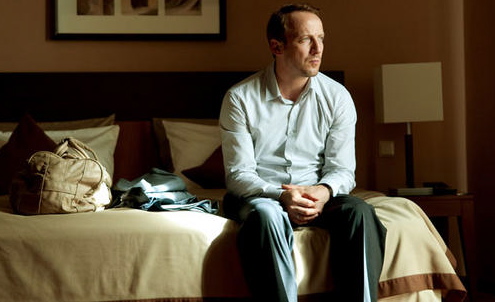 Swiss director Baran bo Odar's debut feature film, The Silence, is a particularly tense thriller about the murder of children and the price paid for all involved because of those who mutely bear witness to such a crime. The film begins somewhere in rural Germany, where two men come across a young girl riding her bicycle through a wheat field. One of the men rapes and murders her, while the other looks on in either horror or impotence; it's unclear at this point. Shortly thereafter, the passive participant wordlessly boards a bus and disappears from his partner's life. Flash-forward to 23 years later, and the storyline begins to come into focus.
Odar takes his time letting the audience figure out exactly what is going on, and after the jump in time it is not immediately clear who is who. But it emerges that another murder of a little girl has taken place in the precise location of the first. A newly retired police officer that worked on the original case is sucked back in by these horrific events, and eventually begins to have a relationship with the mother of the girl who was murdered back in 1986. Another police officer, David (Sebastian Blomberg), has just returned to work after losing his wife to cancer, and appears to be rather emotionally unstable. The man who witnessed the original murder, Timo (Wotan Wilke Mohring), has settled into a new life in the suburbs with his wife and two children. When he hears about the new killing, his world is shaken and he decides to track down his old friend, Peer (Ulrich Thomsen).
The multiple characters and storylines all converge throughout the course of the film, and the mood is decidedly taut. There is general feeling of suburban anxiety and dread, as characters leading what seem like safe, almost mundane existences are jarred out of their sleepy routines by the murder of an innocent. Odar utilizes flashbacks to flesh out the relationship between Peer and Timo, and what emerges is incredibly disturbing. It seems that Peer recognized Timo's unsavory pedophilic desires and nurtured them. While Timo was innocent of committing murder, he is certainly guilty of engaging in a host of other activities in pursuit of his dark fantasies.
Though The Silence employs a few tactics from the police procedural rulebook, it mostly forges its own path. Odar's camera sweeps across bucolic settings turned sinister by the events taking place onscreen, effectively rendering a general sense of discomfort throughout. Every performance in the film is solid, as the actors subtly play out life-changing events and emotions without chewing the scenery. In a field of clichéd psychological crime thrillers, The Silence stands out.
Director: Baran bo Odar
Writers: Baran bo Odar (screenplay); Jan Costin Wagner (novel)
Starring: Ulrich Thomsen, Wotan Wilke Mohring, Sebastian Blomberg, Katrin Sass, Burghart Klaussner
Release Date: Mar. 8, 2013
Others Tagged With